The Learning Center at GateWay Community College is helping students improve placement scores and review essential math skills through Power Math Camp, a free four-day review course.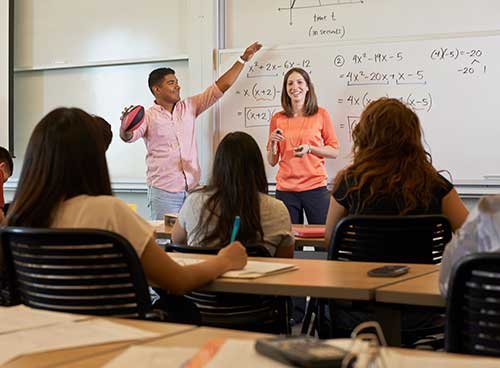 Power Math Camp helps students who are preparing to take the math placement exam or who want to review core math skills for current or future classes. The camp is broken up into different levels to accommodate all math abilities.
For students interested in placing into the first college level courses, MAT 12X or MAT 14X, it is recommended they complete Power Math Camp Basics and Power Math Camp I. Students wishing to place in MAT150/151, MAT 182, or MAT 221 should enroll in Power Math Camp II.
The camp is also offered online through an interactive course, though it is recommended that students attend the in-person sessions.
The camp can help students improve placement scores and enroll in higher level math classes, effectively skipping classes they would have had to take prior to completing the camp.  
Nursing student Francesca Stovall completed Power Math Camp in January and would recommend it to anyone looking to improve placement scores and refresh math skills.
"It's the best thing I've done this year," she said. "It is so helpful. I encourage everyone to come."
Leslie Ayala, a freshman working toward her associate in science, was able to skip three classes and jump right into Calculus 1 her first semester at GateWay after taking Power Math Camp in its three-week summer format. This puts her on track with requirements at ASU, where she hopes to transfer after completing her associate degree at GateWay.
"At ASU, I would have had to start in Calculus 1, so it was great being able to skip those classes, and it helped me minimize my work at college," she said.
The next Power Math Camp will take place May 22 through 25 at the Washington Campus. Enroll today and stay up to date on upcoming Power Math Camp opportunities on Twitter. 
Power Math Camp has been so successful, a Power Reading Camp has also been created to support students. Learn more here.