GateWay Community College, a leader in healthcare education, offers several programs for students at all educational levels to gain hands-on training in the fast-paced environment of the surgical operating room.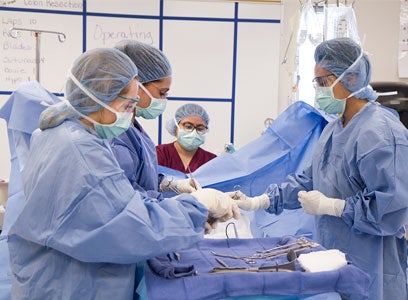 In particular, GateWay has the unique ability to offer hospitals a training program for their registered nurses to become operating room nurses, also known as scrub nurses. GateWay's is the only program west of the Mississippi River that provides operating room training for nurses outside of internal training programs at hospitals.
According to program director Susan Wallen, GateWay's ability to partner with hospitals meets a vast need in the community for operating room nurses.
"There is a huge gap in the community regarding need for nurses in the operating room and the ability for nurses that are working in the hospital to recognize that there are jobs available in the operating room," she said.
Not only do nurses learn basic skills such as sterilization and assessing a patient, but they also learn how to communicate with surgical staff and gain a strong clinical base to ultimately become a better nurse.
"We meet annually with all the hospitals in the Valley, and they have touted our program as paramount in the community, that we are the best," Wallen said. "The reason is because our students are prepared."
In addition to the STORN program, GateWay offers the one-year hospital central service program and the two-year surgical technology program. These two certificate programs provide robust clinical training, and surgical technology requires 800 clinical hours in various specialized areas.
Faculty and clinical coordinator for the program Brandy Thompson said this clinical experience ensures that each student is ready to hit the ground running after graduation.
"We give the most clinical time to our students compared to other schools because we want them to succeed," Thompson said. "They come out with a lot more hands-on experience, so they are able to start working right away."
Thompson and Wallen said that above all, the program seeks to educate students on all the basic ways surgical staff can keep patients safe and free from infection. It's this concept – back to basics – that sets the program apart and graduates stellar students ready for employment.  Graduates from all three programs earn national and international certificates for their expertise.
Learn more about our surgical technology, hospital central service and STORN programs by visiting our website.
If you are a hospital representative interested in learning more about our partnerships, contact Susan Wallen at wallen@gatewaycc.edu