GateWay Community College is offering non-credit English as a Second Language (ESL) classes focusing on listening, reading, writing and speaking. The adult English language classes will help with English language skills and require no prior English instruction. To register for these classes, please visit Enrollment Services at GateWay Community College in the IE Building. 
Placement testing is required to help find the appropriate class for you. Testing is free. 
The cost to attend these classes is only $60 for 16 weeks. Textbooks not required for class. Materials will be provided by the instructor.
This program is part of the new Global Education Center. Come visit us in AF204
Call (602) 286-8575 for more information.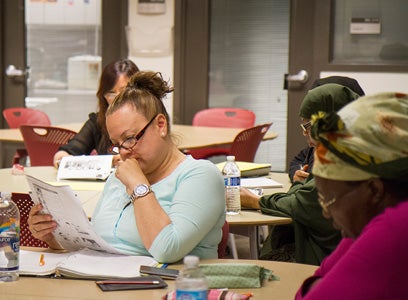 ESOL Basic I
| | | | | |
| --- | --- | --- | --- | --- |
| Class | Section | Days | Times | Start and End Dates |
| ESOL600-00010 | 34062 | Tues/Thurs | 8:45  - 10:45 a.m. | 1/16/18 - 5/10/18 |
| ESOL600-00010 | 34063 | Mon/Wed | 6 - 8 p.m. | 1/17/18 - 5/9/18 |
ESOL Basic II
| | | | | |
| --- | --- | --- | --- | --- |
| Class | Section | Days | Times | Start and End Dates |
| ESOL600-00020 | 34064 | Mon/Wed | 8:45 - 10:45 a.m. | 1/17/18 - 5/9/18 |
| ESOL600-00020 | 34065 | Tues/Thurs | 6 - 8 p.m. | 1/16/2/17 - 5/10/18 |
ESOL Level 1 High Beginning
| | | | | |
| --- | --- | --- | --- | --- |
| Class | Section | Days | Times | Start and End Dates |
| ESOL600 - 00030 | 34066 | Tues/Thurs | 8:45 - 10:45 a.m. | 1/16/18 - 5/10/18 |
| ESOL600 - 00030 | 34067 | Mon/Wed | 6 - 8 p.m. | 1/17/18 - 5/9/18 |
ESOL Level 2 Low Intermediate
| | | | | |
| --- | --- | --- | --- | --- |
| Class | Section | Days | Times | Start and End Dates |
| ESOL600-00031 | 34068 | Mon/Wed | 8:45 - 10:45 a.m. | 1/17/18 - 5/9/18 |
| ESOL600-00031 | 34069 | Tues/Thurs | 6 - 8 p.m. | 1/16/18 - 5/10/18 |