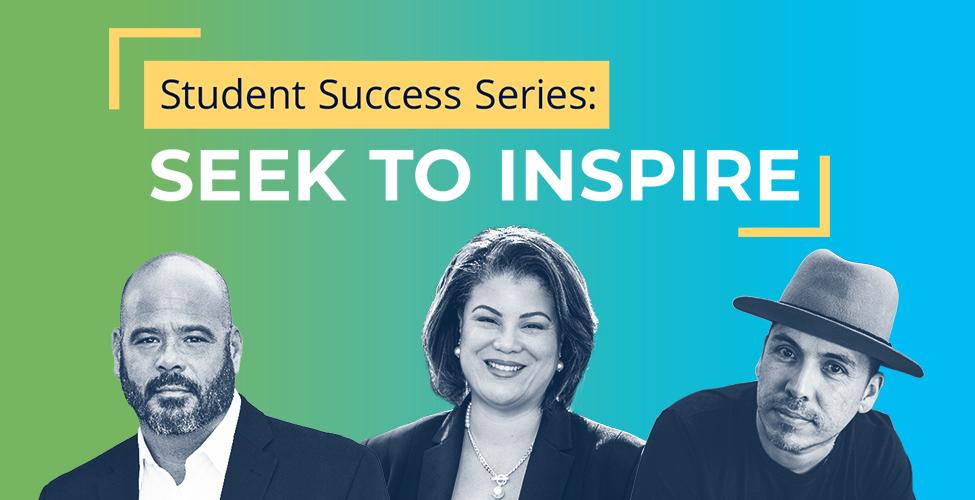 Finding Strength and Purpose Through Self-Discovery
Three Free-to-attend Inspirational Events
College is a critical time when most students discover who they are and determine their future direction. To inspire you and give you the tools and mindset to succeed, we invite you to attend three online events featuring uplifting speakers. The sessions are free—simply register for the ones you wish to attend.
---
College Identities Matrix
Presenter: Alonzo Jones
Date and time: Thursday, February 23, 2023 | 6–7:30 p.m. MST 
Location: Online
Motivational speaker Alonzo "AJ" Jones explores the many identities that exist within college students and invites the audience to prioritize each identity in relation to their personal and educational goals. AJ will challenge students to reflect on their identities and achieve a better understanding of how they factor into their academic and personal success.
The son of a French white mother and Creole African American military father, AJ often lived in the grey areas of identity growing up. Entering and exiting different educational institutions, communities, cultures, and countries, culture and identity became tremendously important in shaping and developing his professional pathway and research areas. 
AJ is currently the Associate Athletic Director for Championship Life at Arizona State University with oversight of the life skills programming for all student-athletes over a four-year period.
---
A Sense of Self
Presenter: Joaquín Zihuatanejo
Date and Time: Tuesday, March 7, 2023 | 6–7:30 p.m. MST
Location: Online
In this interactive workshop, award-winning poet and teacher Joaquín Zihuatanejo challenges workshop attendees to look beyond the perceptions of those viewing us from the outside. He asks us to dig deep to see what it is to be an effective scholar and human, viewing ourselves from within. 
Through writing, reflecting, and sharing, we will examine through verse, dialogue, and discourse who we are as scholars and who we are as writers, thinkers, and humans. The techniques of self-expression and self-reflection that Joaquín will share with you are also practical applications that you can use with your own writing to explore your own sense of self in essay or poem form. 
Come prepared to write, share, think, and feel. Joaquín will share a bit of his own journey as a poet and educator and even present a poem or two meant to inspire all those in attendance to press the pen down hard when they write a poem or a lesson plan, to leave an impression on things they were not intending to impress.
---
Steering Your Path Forward
Presenter: Cassandra Aska, Ed.D.
Date and Time: Wednesday, April 5, 2023 | 6–7:30 p.m. MST
Location: Online
Join Dr. Cassandra Aska, the Deputy Vice-President of Student Services at Arizona State University, for this session on strengthening your sense of self.
You are approaching the end of the semester and potentially another chapter in life. To arrive here means you made a series of decisions within your sphere of influence. Moving forward benefits from reflecting on those decisions:
How did I live my life day-to-day?
Whom did I choose to surround myself with?
Where was my focus—or did I lack focus?
and more
These reflections will lead to determining where the gains were to sharpen your decision-making going into this next semester or a new chapter in life. 
Your time in this session will reflect and expand your sphere of influence in support of your continued journey in life.