Friday, September 17, 2021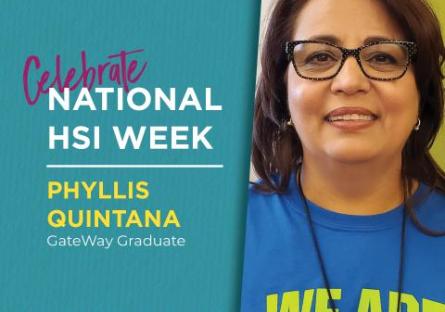 As we conclude our second annual HSI Week, we share the story of #GateWayGrad Phyllis Quintana.
A little over 2 years ago, Phyllis Quintana decided to return to school at GateWay. Based on her prior career working as a Rehab Specialist, she was used to putting other people's career goals before her own. But, she made a decision that it was time for her to do what she had helped so many others do, graduate college. 
Returning to college was not an easy journey for Phyllis and had started over 35 years ago. After dropping out of high school and getting her G.E.D., it became difficult to find the time to take the next steps and finish her Associates Degree.
When asked about her time at GateWay, Phyllis said, "I could not have completed my journey without support from family/friends, my GateWay Career Center family, Financial Aid family and the N.O.W. program family. I was wrapped up so tight with love and support. I wanted to succeed and the rest was up to me and belief in myself." 
While a lot of her family and friends are retiring from their employment, Phyllis is just getting started. She recently joined the academic advising team at GateWay and will graduate with her undergrad from Ottawa University next fall.