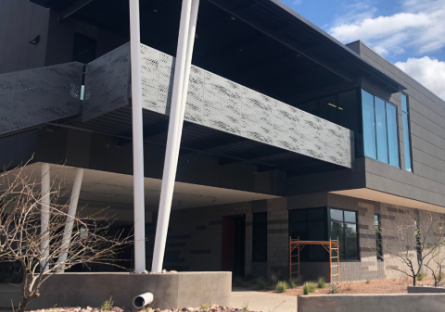 GateWay Community College announces the recent expansion of its footprint at its SouthWest Skill Center location in Avondale. The new expansion will add an additional 6,000 square feet of space that will be the new home of the Ophthalmic Medical Assistant program, formerly located at the Central City Campus in Phoenix. Additionally, the GateWay Massage Therapy and Pharmacy Technician programs will expand offerings. 
"This relocation and expansion of programs gives us the great opportunity to provide increased access for students to these high quality programs," said C.J. Wurster, associate dean of Healthcare at GateWay Community College. "It also allows us to assist our employer partners in meeting workforce demand in these high growth areas throughout the valley. "
These programs will be located in Arroyo Hall next to the current SouthWest Skill Center building. In total, there will be nearly 10 GateWay healthcare and wellness related programs offered at that site.  
Arroyo Hall is part of a larger Estrella Mountain Community College expansion that allowed GateWay to further build its in-demand Trade & Technical Training offerings in a part of the Valley that is experiencing exponential growth. 
Ophthalmic Medical Assistant will be the first GateWay program to launch at Arroyo Hall in May 2021. Massage Therapy and Pharmacy Technician have plans to start classes in August. 
The expansion comes on the heels of GateWay adding an additional location at 18th Street in Fall 2020 and the opening of Phoenix Forge, a community makerspace in downtown Phoenix, in February. 
"GateWay's expansion of clock hour program offerings at the SouthWest Skill Center is an excellent example of Maricopa's Community Colleges working together to support our commitment to economic and workforce development throughout the communities we serve," said Wurster. "We are excited for all of the opportunities that this new space will bring."
For information regarding GateWay programs, visit gatewaycc.edu/programs.