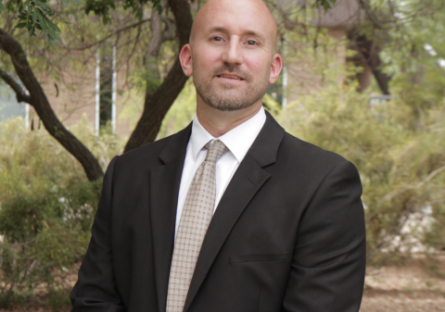 The Association for Career and Technical Education (ACTE) recently introduced its third class of fellows for its 2021 Postsecondary Leadership Success Program – sponsored by ECMC Foundation (PLSP-ECMCF) – and Dr. C.J. Wurster, Associate Dean of Healthcare at GateWay Community College, was selected to participate. The program is designed to provide professional and career growth opportunities to the next generation of leaders at postsecondary institutions and non-profits offering CTE programs. 
Wurster was named along with 19 other colleagues from across the country.
"I am very excited to have been selected, as it will be a great opportunity to connect with other leaders throughout the country who are focused on advancing career and technical education programs," said Wurster.
While the fellowship provides personal and professional growth, participants also gain access to a wealth of knowledge and resources that they can bring back to their organization. 
"We are thrilled with Dr. Wurster's acceptance into the PLSP program as it is an extremely competitive process," said Lora Timmons, Dean of Nursing and Healthcare. "There is so much benefit from a program such as this that collaborates with professionals from across the country to network and share ideas that inspire and facilitate improvements in a variety of educational outcomes. We look forward to Dr. Wurster bringing new ideas to GateWay and being able to grow both personally and professionally in his leadership and higher education skills."
During their time with ACTE, the 20 CTE postsecondary professionals will be immersed in leadership development activities, which include creating a personal development plan, attending virtual and in-person professional development sessions, sharing best practices with the field and engaging with a mentor.
"CTE programs are critical to the workforce and economic development efforts in the communities served by community colleges. This is especially true now with so many people having been displaced from the workforce as a result of the global pandemic," said Wurster. "Having an opportunity through the PLSP Program to engage in discussion around effective strategies related to CTE programs, and applying those strategies at GateWay, will allow us to continue to play a central role in supporting the community's workforce and economic recovery efforts."
ACTE was established to provide educational leadership in developing a competitive workforce. Additionally, the organization seeks to empower educators to deliver high quality CTE programs that ensure all students are positioned for career success, something Wurster feels strongly about. 
"I am very passionate about the work we do within community colleges in general, and in CTE programs specifically - these are programs that can truly change people's lives," he said.