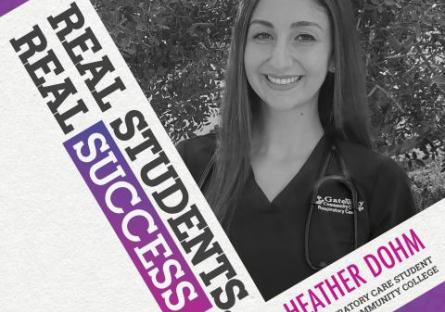 Heather Dohm believed she knew what she wanted to do with her life. After obtaining her cosmetology license in high school, she began a career in aesthetics. But, after a few short years in the industry, she realized her priorities had changed and decided to pursue a career in healthcare.  
"As I grew older, my interest and passions shifted. I believe it's never too late to go back to school, set new goals, and try new things." 
Dohm chose community college to begin her new journey. When looking into program options, she searched for a school that was accredited and cost-effective. GateWay checked off all her boxes and then some, and she found herself enrolled in the Respiratory Therapy program.  
When asked why she opted for respiratory therapy versus other healthcare programs, Dohm shared, "I realized that so much of our lives are spent working. Therefore I want to spend my life making an impact. I liked the job duties of a respiratory therapist the most and that it is a specialized field."   
Now more than ever, Dohm recognizes she made the right decision to go into healthcare. Tragedy struck over winter break when her father passed away from COVID-19. She shares, "I was so nervous to start the third semester. Going back to clinicals when COVID-19 was at its peak was rough. I had to learn how to separate my trauma from my schooling and clinical experience. Knowing that my dad has always been so proud of my sister and me, and all of our achievements gave me the strength to push through." 
During her first two semesters, she recalls how she struggled with feeling overwhelmed but was provided with the resources and support to be successful. Now in her final semester, Dohm has some words of wisdom to share, "Make time for yourself even if it's only 30 minutes a day. Don't deprive yourself of the things that make you happy just because you're busy." 
Dohm plans on immediately joining the workforce upon graduation with the hopes of completing her bachelor's degree within the next five years. According to Dohm, her associate degree sets the foundation to achieve that goal. 
"The respiratory program has taught me so much about myself and what I am truly capable of. Honestly, it's the best decision I have ever made," she said.   
To learn more about the Respiratory Therapy program at GateWay visit: www.gatewaycc.edu/degrees-certificates/respiratory-care-therapy.