Thursday, February 25, 2021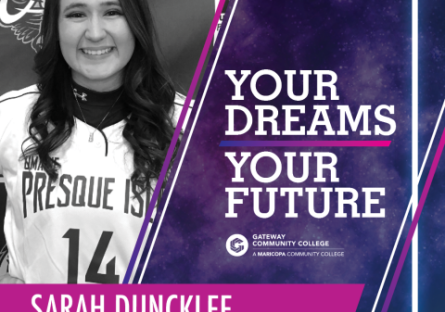 Sarah Duncklee knew at a young age that there was more to life than her small hometown of Kearney, Ariz. After tragedy struck during her sophomore year of high school, she was catapulted into "the big city" of Phoenix. While it was an adjustment, the move created many opportunities for her. 
In her senior year in high school, she was offered the chance to play softball at GateWay. Needless to say, she jumped at the opportunity.
"I did not know what was going to come out of it, or what my next move was going to be. All I knew was I was going to college and getting my education."
Duncklee was originally focused on becoming a medical doctor, but soon realized it wasn't her calling. It was when she began working in the GateWay Counseling Department more than four years ago that she learned the importance of counseling and mentorship. 
"Mental health is so important, and often overlooked until the issue is too much for someone to handle," she said.
Ducklee graduated with her Associate in Science and is currently finishing her bachelor's degree in biology at the University of Maine where she expects to graduate this May. She hopes one day to become a clinical psychologist and work with high school students to help them be the best versions of themselves.
While Maine is beautiful, Ducklee says she always looks forward to coming home during her winter and summer breaks and jumping back into work and helping the GateWay Counseling team. She recognizes she still has a lot of schooling ahead of her, but knows experience is an important part of being great at what you do.
"I never dread a day in the office. Each person in the Counseling Department has taught me countless life lessons. They always make me feel so welcomed when I come home, and missed when I am away."  
When asked what advice she would give to current students, she said, "Life is not about what happens to you, it is all about how you respond to being kicked down."
Learn more about the GateWay counseling services at: https://www.gatewaycc.edu/counseling.