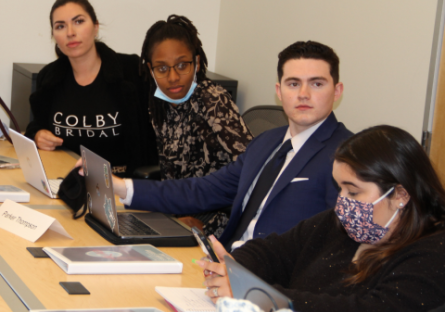 For aspiring entrepreneurs, one of the most significant challenges is raising the money necessary to make their ideas and dreams come to life. So when the Center for Entrepreneurial Innovation (CEI) at GateWay Community College offers a chance to win funding to turn those dreams into reality, students take notice.
Every year, the Big Pitch competition offers aspiring student entrepreneurs attending a Maricopa Community College the chance to pitch their business ideas and win the capital they need to get started. But this year, the competition offered the largest prize pool in its history and the largest candidate pool, now having three candidates from each college. The candidates came from nine colleges:
| | | |
| --- | --- | --- |
| Alyssa Prewitt / Ashely Galvin | Faith Velez | Olivia Lilienfeld |
| Andrea (Dre) Hoover | Genevieve Jones | Parker Thompson |
| Angel Barriente | Isis Comma | Patricia Micsunescu |
| Casiana Morsy / Mohsen Morsy         | Lisa Gomez | Sandra Shockley-Jones        |
| Chari Scott | Lisseh Hernandez / Madeline Bright     | Syven Hill |
| Christa Roberts | Maria Pina | T'Ana Thompson |
| Courtney Hiatt | Mariah McMurren | Tiffany Holman |
| David Olivo | Marie Tice | Tiffany Mccullar |
| Devotera Hill | Mohsen Morsy | Vanessa Williams |
"It is so exciting to see the 27 company founders working, learning, and collaborating to prepare their Big Pitch applications," said Bruce McHenry, business faculty at South Mountain Community College. "The energy and enthusiasm is infectious."
While the winning prize is the goal of everyone who applied, all applicants received a free, three-day boot camp to help them prepare their business plans and pitch. The coaching, conducted by Maricopa Community College business faculty and instructors, provides invaluable experience to ensure every student who applied can turn their passion into a business.
"Seeing students come together to actively work on improving their businesses, and investing in additional learning opportunities to better equip them as business owners, is so rewarding," said Manuel Lucero, adjunct faculty at Rio Salado College. "These entrepreneurs are setting themselves up for success with completed business plans, financial projections, and pitch decks that will serve them during and after the competition!"  
With the boot camp behind them, the field will soon be narrowed to 10 finalists that will be announced on April 9. Once named, the remaining finalists will pitch in person to a panel of judges on April 13.
"It has been just a week since we completed the workshop. We have purchased our domain name, filed for an LCC, and are actively looking for a location," said Casiana Pascariu, founder of the Tent Coffee Shop and one of the student businesses competing. "We felt supported and motivated."
After getting real-time instruction, and hands-on advice from the faculty and instructors who are part of the Maricopa Community College District, students who participated in the Big Pitch Competition are ready to turn their dreams into reality. 
To learn more about the Center for Entrepreneurial Innovation, please visit https://www.ceigateway.com. To learn more about all of the business programs offered at GateWay Community College, please visit https://www.gatewaycc.edu/programs.