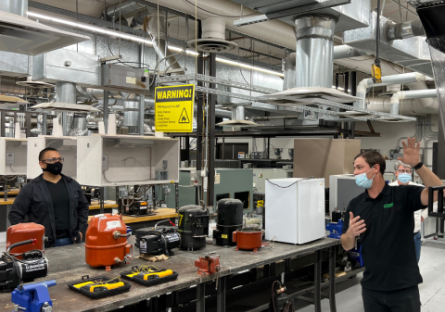 Faster, safer, easier. It is a mantra that GateWay Community College industry partner Evergreen Telemetry has lived by when producing state-of-the-art HVAC technology. As GateWay students learned this week, it's also a mantra that the GateWay HVAC program is bringing into the classroom.
Through a partnership with Evergreen Telemetry, an HVAC equipment and technology manufacturer, the college secured a donation of over $17,000 of new state-of-the-art HVAC testing technology, including hands-on training on utilizing the technology in the field.
"The approach we've always taken with this kind of donation is that we are investing in the next generation of HVAC technicians," said Colby Cronn with Evergreen Telemetry. "Many of these GateWay graduates are going to be working in the commercial and residential HVAC field, and the type of tools and technology we provide keeps these graduates on the cutting edge." 
While students enrolled in the GateWay HVAC program already receive hands-on training and the skills to master industry standards, the program has been incorporating new technology into its training to ensure its graduates have an advantage when entering the workforce.
"We know our students are some of the most well-qualified applicants upon completion from our program," said Bruce Martz, an instructor at GateWay Community College. "We are going beyond training just the industry standards to give our students the ability to become the top technicians in their field. Those will be jobs that pay more and offer more opportunities."
With over 155,000 skilled trade jobs expected to be available over the next two years, the demand for well-qualified commercial and residential technicians has never been greater. HVAC technicians are expected to have salaries above $65,000, further cementing GateWay's status as a top-tier workforce educator. The college was recently ranked as one of the top 50 community colleges in the nation for graduate earnings for the second year in a row.
"All of the programs we offer through the Center for Industrial Technology have great career prospects," said Dr. Craig Urbanski, Division Chair for the Center for Industrial Technology at GateWay. "Our programs have strong industry partnerships, state-of-the-art labs equipment, and offer an accessible and quick route to a better future." 
To request more information about the HVAC program at GateWay,  visit gatewaycc.edu/info or call 602-286-8000 to enroll.