Wednesday, February 16, 2022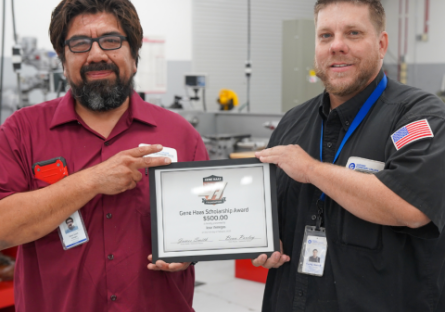 GateWay Community College announced today that students in its Precision Machining program would receive and benefit from tuition scholarship grants from the Gene Haas Foundation. The scholarships were awarded to the winning applicants enrolled in the Precision Machining program at GateWay Community College-Central City Campus. 
The scholarship grants provide financial assistance to students to help them with their education expenses. The Gene Haas Foundation has supported local communities, charities, and students for more than 20 years. 
"The Gene Haas Foundation grant helps ease the financial burden of qualified students who are interested in machine operation and maintenance coursework," said James Smith, lead program instructor for the GateWay program.  
All students were eligible to apply for the scholarship grant if they were enrolled in the machining program at the college. The funds may be used for tuition, books, or supplies the student must purchase, such as personal tooling. 
"I am physically disabled, and this program has provided me with the opportunity to use my skills in a new way," said Jose Vinegas, a GateWay student who received one of the scholarships. "I truly feel like my future is limitless."
The Precision Machining program at GateWay Community College has received previous awards from the Gene Haas Foundation. By providing scholarship grants and partnering with the very best CNC training programs in the world, the Gene Haas Foundation has helped expand the availability of high-quality manufacturing technology training worldwide.
For information on the program, visit gatewaycc.edu/precision-machining or call (602) 238-4350 for enrollment services.