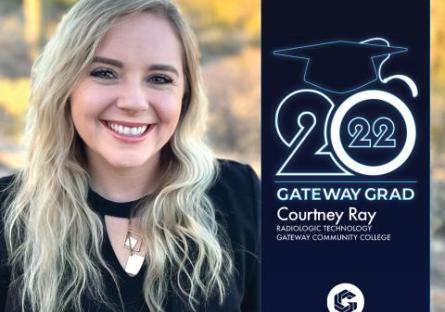 During high school, Courtney Ray took her fair share of photography classes. She dreamed of one day combining her passion for photography and healthcare and turning it into a lifelong career. After graduating in 2013, Ray discovered the Radiologic Technology program at GateWay. After completing the prerequisites, she was eager to join the program and was placed on the waitlist. 
While on the waitlist, Ray decided to try her hand at various jobs. She became a Certified Nursing Assistant (CNA) but soon realized working at the bedside was not where her passion was, "I quickly realized that being a CNA was not something I loved to do. I went on to be a preschool teacher, bartender, and customer service representative. I knew I needed to find something I was much more passionate about." 
After a few years of trying new jobs, Ray finally received the call that would change her life forever. In 2020, Ray was admitted to the Radiologic Technology program. She shares, "The wait was worth it. My experience at GateWay has been absolutely phenomenal, and the teachers were so involved and helpful. I have not had a better experience anywhere, and I would recommend this program to anyone who is interested in this field."
Ray quickly had to adjust to life as a full-time student, sharing, "This is a full-time program, and summer included 40 hours of clinical time. I had to learn to balance school, work, and my personal life. It was difficult but definitely doable." 
This May, Ray was selected to be one of the Class of 2022 featured graduates. Radiologic Technology Program Director Brad Johnson shares, "Courtney's drive and determination to be successful has not diminished in the slightest degree since beginning the program in August 2020. Her academic performance has been nothing less than stellar, and she readily assists her peers when they need assistance understanding concepts."
As a new GateWay graduate, Ray shared some words of wisdom, "Everyone at GateWay is there to help you. The sooner you can ask for help, the sooner you will be able to balance all your responsibilities. My teacher always emphasized that, while studying is important, we also need to 'fill our bucket' with the things we enjoy doing, and throughout these last two years, that little bit of advice has been one of the keys to my success."
Ray was recently selected by the American Society of Radiologic Technologists to participate in their Student Leadership Development Program, a prestigious honor as only two students from each state are selected per year. 
And she's not done yet, having graduated with her Associate in Applied Science Degree in Radiologic Technology, Ray will attend Weber University in the fall to begin a radiation therapy course and her clinical rotations. She hopes to build upon her skills to help patients with cancer treatments and palliative care. 
To learn more about the Radiologic Technology program visit, gatewaycc.edu/radiologic-technology.