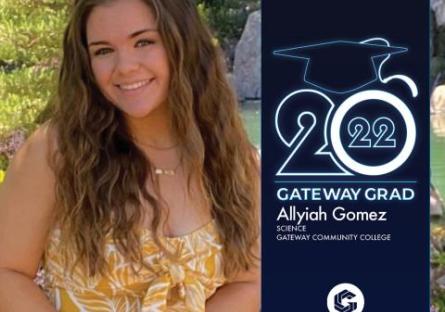 Allyiah Gomez had no desire to play softball at a collegiate level. Having played throughout high school, she knew being a student-athlete was difficult and was looking forward to going directly to a state university to study law. When things didn't go as planned, she was left with one option, community college. Presented with a full-ride softball scholarship, Gomez was hesitant to accept the offer but knew that this opportunity could be a great starting point.  
"After high school, I wanted to go straight to Arizona State University. I had this idea about what college was supposed to look like. I thought going to community college would define me as a failure."
As a first-generation student, Gomez could not rely on her parents for advice on how to navigate higher education. At times, Gomez felt scared and alone, so she began searching for ways to become more involved on campus and connect with her peers.
"When I became a peer mentor with EXCEL, it gave me the opportunity to step outside of my comfort zone. I was able to be there for students who were in a similar situation as I was. I became familiar with the resources available on campus and was able to utilize them myself and share them with my mentees."
One of the resources Gomez discovered was Phi Theta Kappa, an honors society program that awards scholarships and funds to help students in their higher education journey. Gomez joined the program and decided to take another significant step outside of her comfort zone, applying to become the President of the GateWay Chapter. Becoming the President led to an even more remarkable accomplishment; Gomez was awarded the prestigious honor of joining the All-Arizona. Academic team.
"After receiving the All-Arizona Academic scholarship, I left like a weight had been lifted off of my shoulders. I have a lot of responsibilities at home that I have to help pay for. I was so proud of myself," said Gomez, who noted the scholarship would alleviate the financial burden of college for the next few years.
This May, Gomez will be featured as one of the two student speakers during the annual commencement ceremony. When asked what piece of advice she would share with somebody who may not view community college as their first choice, she shared, "GateWay is helping me achieve my dreams. Going to community college was the best thing I could have done for myself. I was able to save money, take classes on my own time, and still receive the best education. I encourage everyone to take advantage of all of the opportunities presented to you."
Gomez has big dreams; she will attend Arizona State University in the fall, where she plans to study biomedical sciences. And she is not stopping there; her goal is to apply for medical school in hopes of one day becoming a medical examiner. If Gomez has proven anything, it's that she's unstoppable and can accomplish anything she sets her mind to. It just takes one step at a time.