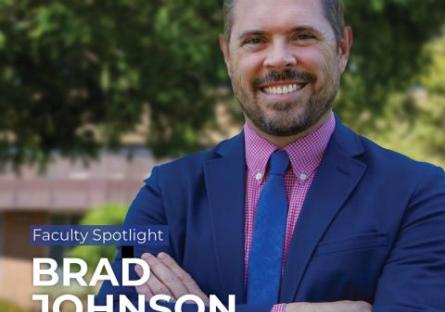 If the Dale P. Parnell Distinguished Faculty designation could be described in one phrase, going above and beyond what is required to ensure student success may be the most fitting definition. Each year, the American Association of Community Colleges (AACC) selects a small number of faculty for the prestigious honor. This year, GateWay Community College professor Brad Johnson was among the elite class to receive the distinction.
"Brad's passion for teaching, and helping students, comes through in every aspect of his work," said Dr. Amy Diaz, interim president of GateWay Community College. "This award is so well-deserved. The students who come out of his program are so well-prepared because of the way he teaches and helps them build skills that last well beyond the classroom."
Starting as a Residential Faculty member of the Radiologic Technology program at GateWay in 2005, Johnson now serves as the program director. He also is a member of the Medical Radiologic Technology Advisory Committee for the Arizona Department of Health Services and has been a contributing textbook author. Even with all of his professional accolades, it is Johnson's dedication to his students that sets him apart. 
"My passion truly resides in teaching people how to make themselves better to make others better," said Johnson. "Our students come to us with different levels of academic preparation, cultural backgrounds, and life experiences. Helping them realize their potential is what I do and defines who I am as their mentor and champion." 
When Johnson is not helping his students or the field of Radiologic Technology, he continues to practice his X-ray skills by working for the Arizona Cardinals.  He also serves on CONNECT, a volunteer board for the Boys & Girls Clubs of the Valley, and donates his Arizona Cardinals game day checks to the organization. As his seven-year-old son often tells him, he is a community helper, a quality Johnson feels goes hand-in-hand with his teaching career.
"I hope my students come away from my classes with a sense of community, a growth mindset, and the ability to monitor themselves and their performance," added Johnson. "I hope that I can give them a new perspective and make them realize they are a part of something larger than themselves." 
Johnson will attend the AACC conference and award ceremony this May to receive the honor formally along with interim Vice President of Academic Affairs, Dr. Stephanie Polliard. The trip offers a brief opportunity for reflection and celebration, but when asked about the award, Johnson sounds like someone just getting started.
"I see this award as a reflection of the people in my life, both personally and professionally, past and present," he added. "I stand on the shoulders of giants, and I am humbled. This award makes me want to do more good and continue to honor all of those people that have helped, and continue to help me be better each day. Making myself better puts me in a position to make others better."
The honor is a well-deserved recognition of a faculty member who has devoted himself to his students. But when asked about his proudest moment, Johnson had this to say.
"My proudest moments happen each time a student is present for class. The effort it took to get to that seat or log on to a class on time should not be underestimated. Everyone is fighting a battle I know nothing about, and I am equally proud of the student who overcomes obstacles on their own as I am of the student who accepts that they need support & college resources to overcome their obstacles."
Luctor et Emergo. A Latin phrase that loosely translates to, "I struggle and emerge (or overcome)." It is a phrase that resonates most closely with Johnson's teaching philosophy. Let them struggle, show them support, and help them grow. Growth that his students take with them well after they leave his classroom.
To learn more about the programs offered at GateWay Community College, visit https://www.gatewaycc.edu/programs.