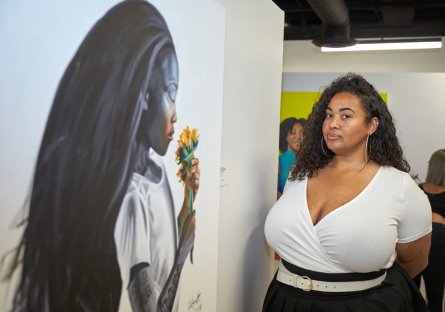 Photo: Alex Gould/The Republic
When GateWay Community College unveiled its new art gallery this past fall, showcasing Antoinette Cauley, one of Phoenix's most influential and rising artists, was undoubtedly the caliber of experience it had envisioned. 
This April, GateWay will host the homecoming and public unveiling of Cauley's latest exhibit, "Blackbird Fly," exploring the artist's relocation from Phoenix, Arizona to Berlin, Germany, during the pandemic. The move influenced and reshaped her views on systemic racism, her home country, and her intersectional identities. 
"As a biracial Black American woman from a marginalized community, my work looks to directly confront and question the normative racial narratives that have been historically presented within art establishments and institutions," said Cauley. "By emphasizing the beauty in the many complexities of Black American Hood culture and Black hood feminism, I look to portray the depth and resilience of a demographic whose complete essence is consistently robbed for profit while their own bodies and stories are carelessly cast aside."
The free exhibit, which opens on April 8 at the GateWay Art Gallery, is already in high demand. The tickets, which only need to be secured to hold your place, are expected to run out within minutes. 
"We have a robust art community at GateWay Community College," said Susan Mills, GateWay's fine arts coordinator and curator. "This exhibit certainly encourages the kind of thought-provoking and authentic conversations that are important to have in our community and our society as a whole."
The "Blackbird Fly" exhibit is a reference to The Beatles' "Blackbird," a song about a group of Black American women during the civil rights era. Cauley's work speaks to the long-term effects of trauma (both generationally and individually) and the systemic barriers it creates for members of the Black American community specifically. 
"My work means to be a powerful statement about who we are as a community and the beauty that is riddled within the streets and walls of our hoods," said Cauley. "Playing with figurative imagery and popular culture materialism, my work directly confronts viewer expectations about the Black American experience and calls into question the many negative connotations that accompany elements of the Black community."
Courageous, thought-provoking, and inspirational: all words that can describe Antoinette Cauley's work. And, for the first time on U.S. soil, her latest exhibit will make its debut inside of a college that aims to make education and art more accessible—inspiring to say the least. 
Tickets for opening night are now available for Maricopa Community College District students, faculty, and staff before the general public. To learn more about the exhibit opening and to reserve your space, please click here.
Tickets will become available to the public on Monday, March 28 at 5:00 p.m. In addition to the opening, the artist will hold a lecture to discuss the exhibit on April 13 at 6:00 p.m.
This event is sponsored by GateWay's U.S. Department of Education Title V Hispanic Serving Institution grant ÉXITO (#P031S190167).