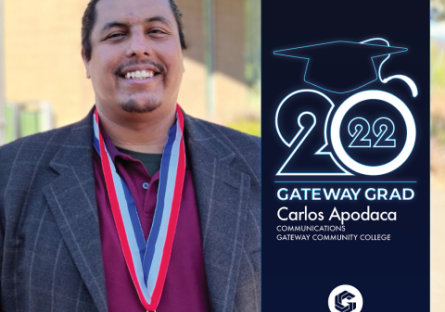 Ambitious, driven, change-maker, are all words that could be used to describe GateWay graduate Carlos Apodaca. But Apodaca's life was on a completely different trajectory just a few years ago. Prior to joining GateWay, Apocada was working as an emergency veterinary technician. His rigorous work schedule made it difficult to balance all of his responsibilities and he knew he needed a change. After a car accident in 2017, Apodaca developed a newfound interest in physical therapy.
"After my car accident, I had reconstructive ankle surgery and I was sent to outpatient physical therapy. During my time there, I enjoyed the interactions I had with my doctors and nurses. I've always liked communication and engaging with people so I figured I might want to do that as a career."
As a former Maricopa County Community College District dropout, Apodaca returned to GateWay Community College after a 15-year hiatus. In the fall of 2018, Apodaca began his prerequisites for the Physical Therapy Assisting program.
"My first experience at college was not a successful one. I knew if I wanted to be successful, I had to take ownership of my own education and put in the work. I wanted to make the most out of my second chance."
The second time around, Apodaca was older, wiser, and invested in his education. But even with his newly discovered motivation, he faced a minor obstacle. He applied to the physical therapy assisting program and was not accepted. Apodaca shares, "The program is highly competitive and that was only a minor setback for me. I felt a little discouraged because I worked two years toward it, but my advisors helped me understand that I would still be graduating with a communication degree."
Although it may not have been the path he set out to take, all of Apodaca's hard work had paid off, in the spring of 2021 he graduated with his Associate degree in communication with high distinction and the following semester completed a secondary degree in general studies. 
Apodaca is just getting started. This spring he joined the All-Arizona Academic ranks, which awards two outstanding community college students with full ride scholarships to any state university. During the 21-22 academic year he served as the GateWay Community College Student Senator and Deputy Chair of the Maricopa Student Senate. In this role, Apodaca acted as the liaison between students and the college, and district's executive leadership team.
When asked what advice he would give students hesitant to go to college, he shares, "When you make a decision to go to school and educate yourself, you are investing in your own intellectual property, in your mental health, emotional health, physical wellbeing, and your future career. There are only more doors that can open for you. It is never a bad decision to invest in yourself. Lastly, never be afraid of failure, because it can become your greatest teacher. Failure breeds resilience under adversity, it cultivates character, conducts wisdom, and ultimately guides us to become the best versions of ourselves."
Notable Academic Achievements:
Associates in Arts, Emphasis in Communication with High Distinction - GWCC 2021
Academic Certificate, Arizona General Education Curriculum (AGEC) - GWCC 2021
Associates in General Studies with High Distinction - GWCC 2021 
Academic Certificate, Communication Competence in the Workplace - GCC 2022
3-time GateWay President's Honors List 
GateWay Honors Program Student 
Phi Theta Kappa member 
2022 All Arizona Academic Team PTK Scholar
2022 Human Library Book 
2022 Chancellor's Civic Engagement Medallion Award Recipient