Tuesday, November 1, 2022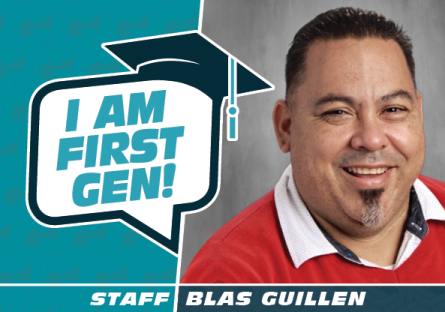 Blas Guillen, Assistant Principal of Student Affairs for GateWay Early College High School, shares his first-generation college student story and how it has influenced him to take on a career in helping young people.
As a first-generation college student, where did you draw inspiration for attending college and how did you develop that college mindset?
I did not have any inspiration to attend college. I attended Phoenix College out of high school because Mrs. Walcott, an assistant principal at Camelback H.S. loaned me $300 to sign-up for community college. My inspiration was my wife, I was 30 years old. I returned to complete my Bachelor's though University of Phoenix, it took two years.
What memories do you have of being a first-generation college student? What challenged you and what surprised you?
The memories I have of being a first-generation college student is that it was a foreign environment to me. Lines, lines, and more lines. I had to take remedial classes and I didn't even know what that meant. I thought I was going to take classes 5 days a week, it still felt like high school in that sense. What surprised me is when I took a Mexican-American History class, It took me by storm. Once I learned about history that reflected my experience, I then began to get interested in American History. I now wanted to become a History teacher.
How did you find your path in your chosen field and your job?
I signed up for fire science classes at Phoenix College, then I learned that the City of Phoenix had a 6-year waiting list to become a firefighter. I thought to myself, I can't wait that long to work. I was a butcher at the time I was attending Phoenix College and I quit. I asked my roommate if he could help me get a "temporary" job working in recreation until I found a "real" job. That was when I was 23 yrs old, I've been working with young people ever since.
What advice would you give first-generation students at GateWay?
The advice I would give any student is that there are people that care. Students, teachers, professors, staff, etc. Expect it to be hard, but anything that is worth having doesn't come easy. Life will happen, you will fail at times, it is how you deal with adversity that will determine the outcome.
"If you fall 7 times, get up 8." – Denzel Washinton
"If you want something you have never had, you must be willing to do something you have never done." – Thomas Jefferson
What does being a first-generation student mean to you?
It means I have a responsibility to help others understand a "foreign system." We all have paths we travel, but some of us have to create our own. It seems as if there is more stress on us because we are the first, but we bring understanding for our families but most importantly of ourselves. The knowledge I've gained isn't just about history, math, science, etc. It's about a real-life virtual puzzle called higher education.