Tuesday, November 1, 2022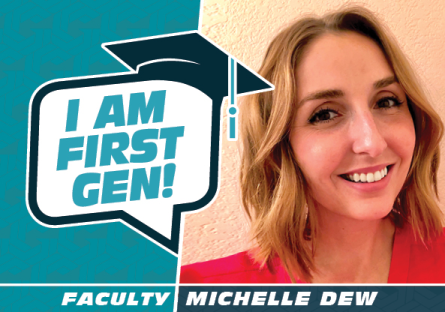 Michelle Dew, Communication Coordinator/Faculty, tells her first-generation college student story which involves finding support and mentors to help her at every step in her journey.
As a first-generation college student, where did you draw inspiration for attending college and how did you develop that college mindset?
In all honesty, at the beginning of my college journey, I would categorize myself as being a bit lost and unmotivated. I was told going to college was what I was "supposed" to do so I can't say there was a great sense of inspiration initially. It was through my interactions with other classmates and employees at my community college campus that I began to see what was possible for me. In a way, my inspiration was delayed, but when it came, it sparked a deep passion for learning.
Developing the college mindset was a series of trial and error. I had to learn that this development wasn't something I could do in isolation so I went to others for help such as the tutoring center, counseling services, student life and leadership, etc. Through mentorship and guidance, I learned that the college mindset was about persistence, time management, and belief in myself.
What memories do you have of being a first-generation college student? What challenged you and what surprised you?
One of my first memories of being a first-generation college student is funnily enough going to the wrong classroom on the first day of school! It was horrifying to realize part of the way through the class time that I was in the wrong room, but now I can look back and smile at the minor mistake.
The biggest challenge was navigating the college system itself. Learning how to enroll in classes, how to use my student center, filing for FASFA, and eventually, how to transfer to a university. With that being said, I was surprised by how willing and patient some of the employees were to help me through these processes. For example, I had a caring and thoughtful academic advisor who took me under their wing. They regularly checked in on me and my progress. When it came time to apply for ASU, they sat with me and helped me fill out the application step by step. I was blown away by their kindness and I could clearly see that they cared about me and my success.  
How did you find your path in your chosen field and your job? 
Like I've mentioned, I was incredibly fortunate to have mentors at my campus who watched out for me. While I was at community college, I didn't know exactly what major to pursue, but I knew that I eventually wanted to come back and work on a community college campus so that I could pay it forward to future students as a way to demonstrate my gratitude for all the help I had received during my experience.
Knowing this, I spoke with one of my favorite professors, a Communication faculty member, and asked for guidance on what to do next. At the time, I had taken most of the Communication courses offered at the campus because I enjoyed the classes and teachers. She pointed this out and recommended I continue my Communication studies because it was apparent that I had passion for the discipline. As a first-generation student, it never occurred to me that I could pursue Communication as a major. Therefore, the rest is history. I went on to pursue a Bachelor's degree and Master's degree in Communication. It was through this professor's guidance that I pursued a teaching career in Communication. I'm forever grateful to her because I wake up every day so excited to teach and work with students.
What advice would you give first-generation students at GateWay?
Connect with the employees at the college early and often. When I was a first-year student, I was afraid I would be "bothering" staff and faculty with questions or requests for advice. It wasn't until my second-year that I realized that I would never be seen as a bother to them. They not only wanted to help me and see me succeed, they were excited to assist me! There are people here on campus that are invested and dedicated to your success. Don't be hesitant to utilize the resources and support that is available here for you.
What does being a first-generation student mean to you?
I take great pride in being a first-generation college student. When I think of being a first-generation college student, I think of family, support, and community. While I am the first person in my family to attend college, this doesn't mean that I did it by myself. My parents, siblings, grandparents, aunts, uncles, and cousins were all in my corner cheering me on. Their support and love got me through challenging courses and stressful semesters. I appreciate that my family and the community of employees at my college saw something in me and encouraged and challenged me to pursue my education.
Anything else you would like to share with us?
My last piece of advice for first-generation college students comes from advice that was given to me when I was a student: believe in yourself and don't ever count yourself out. If you find yourself doubting whether you can achieve a big goal or get that spot in a competitive program, consider asking yourself the question, "Why not me?" You deserve to be here and to pursue your dreams.