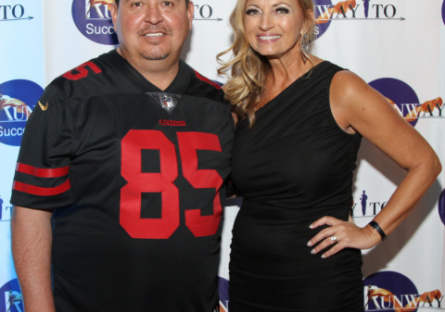 After a 15-month hiatus, GateWay Community College's biggest fundraiser of the year returned to an enthusiastic crowd ready to celebrate student success. Runway to Success 2021 may have looked a bit different this year, but a common theme was felt throughout, and guests were glad to finally be back, and help raise much needed scholarship funds.
"Where Dreams Take Flight," was set to be the gala of the year and it did not disappoint. Story after story, GateWay students and graduates paraded down the runway sharing the hardships and challenges they faced throughout the pandemic. From domestic violence and addiction, to unplanned pregnancies, the stories were heart wrenching, but a common theme emerged...the gratitude each and every one of them had for the GateWay's faculty and staff.
Hosted at the Clayton House in Old Town Scottsdale, the evening featured music, food, and world class entertainer Dizzie Ramsey, who wowed the crowd and served as the night's emcee. This year's chair, Veronica Penzone, shared her story as a community college graduate and the need for continued trade and technical training.
Juan Mota, the final participant to walk the runway, left the crowd in tears as he shared how only a few months ago he was in a medically induced coma fighting for his life after contracting COVID-19. After months of Pulmonary Rehab, Mota is back to work all thanks to care he received from the HUG Clinic. The final surprise of the evening came when Mota's employer, Scottsdale based Depcom Power, kicked off the final cash call with a $25,000 donation to the HUG Clinic!
Runway to Success helps GateWay continue to provide an affordable, encouraging environment and pathway to success through education and workforce training. To learn more and make a donation visit, gatewaycc.edu/giving.