Friday, February 25, 2022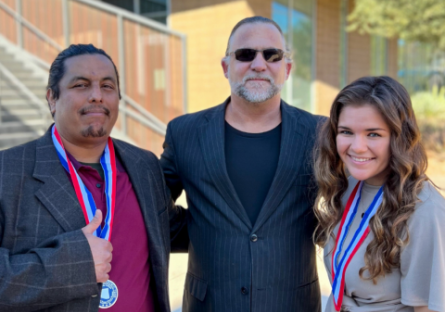 GateWay students Carlos Apodaca and Allyiah Gomez, have two very different stories, but both of their academic journeys brought them to GateWay.
As a first-generation student, Allyiah Gomez dreamed of going to a state university right out of high school. When she was presented with a full ride softball scholarship to GateWay she was hesitant to ­accept. Gomez thought about the stigmas surrounding community college and was worried about the education she would receive. After her first semester, she immersed herself in student life activities and became an EXCEL Peer Mentor. She now encourages other first-generation students to consider community college as their first choice.
As an adult learner, Carlos Apodaca saw GateWay as the perfect option when looking to re-career. He had worked as an emergency veterinarian technician for years and was ready to begin a career that would allow him to share his life experiences with students like himself. Apodaca is working toward his degree in communications and looks forward to the day he can return to GateWay as a faculty member.
Both students were recognized as part of the All-Arizona Academic team at an awards ceremony on February 24, 2022.
The All-Arizona Academic nominations are given to two students at each community college in Arizona. The program is presented by the Phi Theta Kappa Honor Society and is open to all college students. Eligibility requirements include having a minimum 3.5 GPA and working toward an associate or bachelor's degree.