Tuesday, February 28, 2023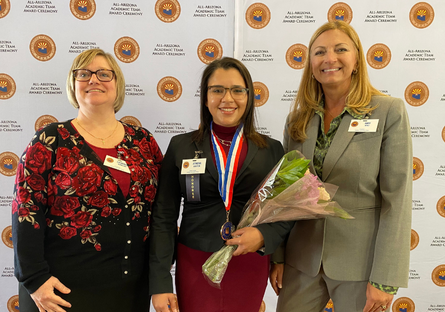 Athena Easton's world looked different just three years ago. Having escaped an abusive relationship, she was determined to put her life back together. Education had always been a priority for her, as she had been in school for many years having already obtained an Associate in Arts. 
In the spring of 2021, Easton found herself studying forensic science at South Mountain Community College (SMCC). By the fall of that year, she realized she was destined for something else, helping others. 
"A friend of mine convinced me to get into the nursing field, I love being around other people and I knew I wanted to pursue a career in it," said Easton.
Like many students and young adults, Easton struggled with her own insecurities, she was plagued with the thought of never being good enough. Additionally, she was the first member of her family to embark on a career in the medical field, which at times, felt unobtainable. As luck would have it, her academic advisor, Joshua Schwalbach at SMCC encouraged her to apply for the Concurrent Enrollment Nursing program at GateWay. 
"Mr. Schwalbach not only pointed me in the right direction but he also encouraged me to do so when I wasn't feeling adequate enough," said Easton. 
To meet the prerequisites for the Registered Nursing program, Easton enrolled in the Nurse Assisting program at GateWay. Easton said, "I couldn't be any more appreciative to have GateWay fall into my lap! The instructors truly care about your success. Jennifer Watson was my Nursing Assistant instructor. She worked tirelessly to make sure we had the support we needed and all questions answered! I can't sing her praises enough. Some of my other favorite professors I've had the pleasure of learning from include Kristen Wood, Jim Crimando, and Diana Kinsfather. I actually refer these instructors to other students."
On February 22, Easton was recognized as a part of the prestigious All-Arizona Academic Scholars. The All-Arizona Academic nominations are awarded to students at each community college in Arizona. The program is presented by the Phi Theta Kappa Honor Society and is open to all college students. Eligibility requirements include having a minimum 3.5 GPA and working toward an associate or bachelor's degree.
When asked what being a part of the honors team means to her, Easton said, "Sometimes I have a hard time wrapping my head around the idea that this award is rightfully mine. I've spent decades of my life feeling like I am not worthy due to the actions and words of past friends, ex-partners, and even parents. Being a part of this team means I am adequate. It means I can do it. It means that anyone who made me feel lesser than, was wrong. I don't need them to fill that void because I proved to myself that I am enough."
As she waits for her acceptance into the Concurrent Enrollment Nursing program, Easton is already planning what will come after graduation, "Initially my goal was to become a pediatric nurse, as I am good with children. As I continue toward this program, I've opened my mind to ER, NICU, and travel nursing. I may even want to go further to become a Nurse Practitioner." One thing is for certain, Easton plans to make a difference, "You can't change the world, but you can change someone's world. That level of fulfillment can't be bought."