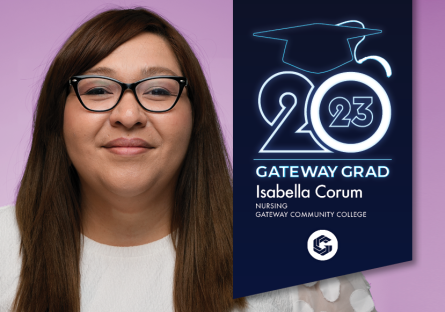 Isabella Corum's journey to becoming a nursing student at GateWay Community College has been marked by resilience, determination, and a deep passion for helping others. Her story is one of overcoming challenges, balancing motherhood and academics, and achieving her dreams through hard work and dedication.
As a teen mom, Corum did not see herself attending college after high school. Her interest in nursing was sparked by her father's experience in hospice care, where the nursing staff's compassionate care inspired her to consider becoming a nurse. After a traumatic childbirth with her third child, Corum knew it was her time to begin her schooling to become a nurse. 
"As a first-generation student, my family didn't know a lot about college, it was never really on my radar," said Corum. "Once I graduated high school I saw all of my classmates attending college, but being a mom came first for me. When the pivotal moment of my dad being sick happened, that's when I said 'this is the time to get rolling on my education'."
Now, as a mother of four, Corum was determined to provide for her children and set them up for success. Her desire to help others and passion for nursing led her to enroll in the program at GateWay Community College. 
"Being a mother means you want to give your children the best, you want to leave them something when you're gone and higher education does that for you. It provides you with a career that is consistent," said Corum.
Throughout her time at GateWay, Corum's dedication and hard work shone bright. Not only did she excel in her studies, but she also became actively involved in campus life by participating in the GANAS Latinx Leadership Institute and volunteering weekly during the St. Mary's Food Drive. Her leadership skills and commitment to her fellow students led her to be elected as the Student Body President, a role in which she worked tirelessly to improve the college experience for her classmates and students across the college.
Despite the challenges of being a mother and a student leader, Corum remained focused on her studies and clinical rotations, excelling in her coursework and clinical experiences. She also participates in the concurrent enrollment program, which allows her to work toward her Bachelor of Science in Nursing (BSN) degree while completing her associate degree at GateWay. Her determination and hard work will pay off, as she is on track to attain her BSN through Arizona State University in December 2023. 
"To me, it doesn't feel like I have to juggle my personal life and student life. I know that to be successful in every area of my life, I need to be on top of my schedule and stay focused in the moment, and conquer it day by day," shared Corum.
Looking toward her future, Corum is eager to make a difference in the lives of patients and their families. She has recently accepted a position at the Mayo Clinic and is on track to graduate with her Bachelor of Science in Nursing (BSN) in the fall. After completing her BSN, Corum hopes to further her education and obtain a Master of Science in Nursing (MSN) degree, and possibly even a doctorate, to deepen her knowledge and practice of the nursing field.
"Being a nurse, I will be able to give back that trusted care I received when I was in the hospital," said Corum. "I look forward to being an advocate for the patients entrusted with my care." 
Corum's journey as a GateWay Community College graduate is a testament to her unwavering determination, resilience, and passion for nursing. She has overcome adversity, embraced motherhood, excelled in her studies, and emerged as a leader on campus. Corum's story is an inspiration to all, showcasing the power of perseverance and the pursuit of one's passion in achieving personal and professional success. 
To learn more about the nursing program at GateWay, visit gatewaycc.edu/nursing.