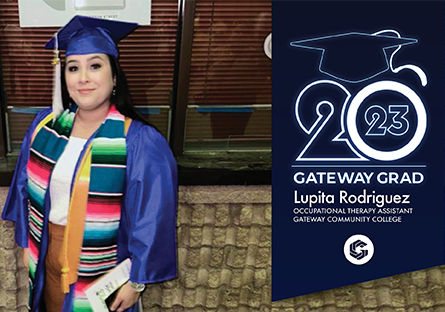 For Lupita Rodriguez, the journey to becoming an Occupational Therapy Assistant (OTA) was far from straightforward. Her story is one of perseverance, setbacks, and eventual success, and today she is one of GateWay Community College's 2023 featured graduates.
Rodriguez's college career began while still in high school when she joined the Achieving a College Education program at Estrella Mountain Community College. After graduation, she was accepted into a bilingual nursing fellowship program, but unfortunately failed her course during Block 1 and was placed on a waiting list. It was during this period of waiting that Rodriguez began to search for her true calling. 
"When I was placed on the waitlist, I chose not to continue my nursing journey," said Rodriguez. "I prayed and kept positive about finding where I was supposed to be. One morning I woke up thinking about Occupational Therapy, I researched GateWay's program and applied within a week."
She was drawn to the program because it offered a long-term career that allowed her to help others, a desire that had motivated her from the start.  "I saw that I could help people reach their highest potential. I began to work in a school with children with special needs," said Rodriguez. "When they reached a goal, it warmed my heart! I love seeing progress and aiding the progress." 
As a wife and mother, Rodriguez had to balance many responsibilities and challenges. She struggled with anxiety and depression, but with the support of her family, she persevered through difficult times. "Some days were not easy. Without my family, I could not have done this. We have all sacrificed so much to get me to this point. I am forever appreciative," shared Rodriguez.
While at GateWay, Rodriguez joined the honors program and Phi Theta Kappa. She credits her professors for helping her succeed, she shares, "I really enjoyed being taught by Dr. Pomeranz, director of the OTA program. She's amazing and always saw the potential in me and because of her I am here today. All my teachers were amazing. They really pushed us to be our best."
Rodriguez shares this piece of advice for students who are still making their way through the program, "Enjoy the ride, enjoy the process, and have fun! Yes, it can be stressful and hard, but it's not forever. Smile, be patient, and be ready to learn to change people's lives." 
Looking to the future, Rodriguez is excited to begin her career as a Certified Occupational Therapy Assistant (COTA). She is confident that Occupational Therapy is the right career for her and is excited to see where it takes her. She plans to return to school in the future to get her bachelor's degree in rehabilitation. In addition, she plans to have more children, grow as a wife and mother, and hopefully one day own her own business.
Despite facing setbacks, Rodriguez never gave up on her dreams and continued to work hard to achieve her goals. Her journey serves as an inspiration to others who may be struggling with their own career path.
To learn more about the occupational therapy assistant program, visit https://www.gatewaycc.edu/degrees-certificates/occupational-therapy-assistant.