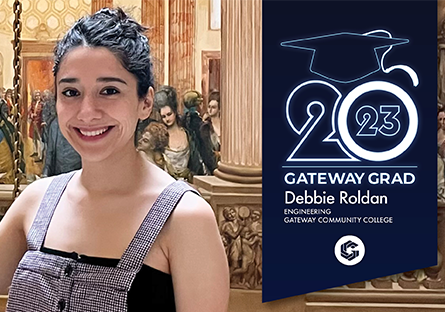 Debbie Roldan's journey to success is an inspiring story of perseverance and self-discovery. After dropping out of college halfway through her first semester, Roldan worked at State Farm for several years before realizing that it wasn't the career path she wanted to pursue. She felt stagnant and unfulfilled, and decided to go back to school to find her true calling.
"In the back of my mind I always knew State Farm wasn't what I wanted to do, climbing up the corporate ladder wasn't for me," shared Roldan. "I became more and more miserable and I knew I needed to do something about it."
Despite feeling intimidated by the college application process and lacking confidence in her academic abilities, Roldan enrolled at GateWay Community College in 2021. One of the primary reasons she chose GateWay was its close proximity to her home. Additionally, she discovered a valuable source of support on campus through the NSF STEM Scholars Program.
"At GateWay, I discovered that there is a lot of support in college. What blows my mind is how many different groups you can find that help you not feel so alone and intimidated," said Roldan. 
Throughout her time at GateWay, Roldan discovered her passion for math and physics, which led her to pursue a degree in aerospace engineering. She found inspiration in other students who had returned to school later in life, and learned that there was a lot of aid available to help her achieve her goals.
"GateWay has been really nice, everyone is supportive and willing to help," said Roldan. "Shannon Ruth has been my mentor and calculus teacher the entire time, she is one of the best professors I have ever had."
Despite the challenges she faced along the way, including self-doubt and a lack of confidence, Roldan persisted and is now completing her associate's degree and plans to transfer to Arizona State University. She hopes to land an internship at NASA or SpaceX, and eventually find a job outside of Arizona, ideally in Europe.
Roldan's advice for those considering going back to school is to do it for themselves, she shares, "Believe in yourself. As corny as it sounds, if you don't have confidence in your own capabilities you are setting yourself up for failure." She believes that the key to success is self-confidence and perseverance and that anyone can achieve their dreams if they are willing to work hard and never give up.
Roldan's story is a testament to the power of resilience and determination. By focusing on her passions and seeking inspiration from others, she was able to overcome her insecurities and achieve her goals. She is a true role model for anyone who is considering going back to school or pursuing their dreams later in life.