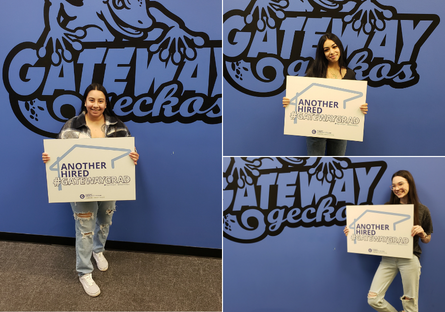 As the most recent cohort of Medical Assisting Program students graduated from GateWay Community College, many had already secured employment. While that alone may have been one of the most notable achievements among the freshly-minted grads, the landing spot among many turned heads: nearly 25% were headed to Phoenix Children's.
With the Bureau of Labor expecting a nearly 30% increase in medical assistant jobs between 2016 and 2026, hospitals and healthcare facilities around the country are turning to healthcare educators like GateWay to help them fill the void. And for a rapidly expanding, nationally-ranked health system like Phoenix Children's, it is especially true.
"Hiring GateWay graduates has been an all-around positive experience. The new medical assistants are not only well prepared in clinical and administrative skills, but they also exude a high level of professionalism and passion for the field," said Yesenia De La Rosa of Phoenix Children's. "I love hiring recent graduates from GateWay because I know they will be proactive and eager to learn."
As a critical part of the medical team, medical assistants often serve as a liaison between the patient and the medical staff, a big reason for the high demand. Students at GateWay can receive hands-on training using real-world scenarios and are eligible to take their national certification exam in just eight months. Despite the quick turnaround, graduates make an immediate and much-needed impact.
"This career is not only a rewarding field, but it can open the door to a variety of careers in the healthcare field," said Vivian Valdivia, program director at the college. "The speed at which we can produce some of the most well-qualified medical professionals makes us a great partner to countless healthcare facilities that depend on us to help them address their workforce needs."
And the Medical Assisting program is just one of many healthcare programs with a similar story. As one of the preeminent workforce colleges in Arizona, GateWay Community College has been educating highly-skilled graduates for over 50 years.
"Our college's mission has always been helping students take the most direct and affordable path to high-paying jobs," said Dr. Amy Diaz, interim president. "Our students are workforce ready upon graduation. Whether they enter the healthcare field, a trade or technical career, or transfer to a university, our graduates have the foundation they need to make an immediate impact. Our partners know the quality we bring to the table."
With the continued need for healthcare professionals in Arizona, GateWay has continually looked to expand the accessibility of its programs. From increased cohorts to additional learning modalities, interested students now have more opportunities to pursue programs that fit their career ambitions.
The Medical Assisting program at GateWay begins its future cohorts on March 20 and July 10. For more information, please visit gatewaycc.edu/medical-assisting or call (602) 286-8000 for enrollment services.