Thursday, January 26, 2023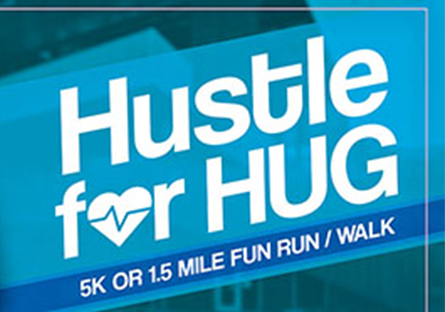 In just over a week, GateWay Community College will host its second annual "Hustle for HUG" 5K or 1.5 Mile Fun Run/Walk. The event raises critical funds for the Healthcare United at GateWay (HUG) Clinic, a state-licensed pro bono clinic through the college and allows students to gain hands-on experience while providing free healthcare to community members in need.
Expanding on the success of last year's inaugural event, the event now has several sponsors and hopes to increase participation to raise funds and awareness of the vital work the HUG Clinic does for the community.
And, when racers lace up their sneakers on Saturday, Feb. 4, they know they are doing it for real students and patients who have had their lives changed through HUG. Students like Hannah Brennan, who worked on the fundraising event as part of her capstone project at NAU.
"Proper healthcare should be available for every individual," said Brennan. "Working on a project that helps bring that to the Phoenix community was so important to me. I am thankful that the capstone projects, NAU, and the HUG clinic brought about an opportunity to be involved in serving the underserved through healthcare."
As the only clinic in the United States offering a unique combination of specialty care services, there is increasing demand for additional capacity. Alongside NAU students, GateWay healthcare students provide patient care in Respiratory Therapy, Physical Therapist Assisting (PTA), Diagnostic Medical Sonography (DMS), Occupational Therapy Assisting, and Therapeutic Massage. And, each visit a patient makes to the clinic would cost an average of $100, with every dollar making a life-changing difference.
Among those whose lives have been changed is Juan Mota, a HUG clinic patient placed in a medically induced coma for two months after being diagnosed with COVID in the early stages of the pandemic. As Mota fought for his life, he eventually exhausted his insurance visits and sought help from the HUG Clinic as he still struggled to breathe and his symptoms failed to improve.
"The HUG Clinic gave me my life back," said Mota. "The people at HUG went beyond professionalism. They were attentive to my needs and helped me achieve my rehabilitation goals. Today I can live without an oxygen tank and walk well enough to return to work."
To learn more and to register for the Hustle for HUG, please visit gatewaycc.edu/hustle-hug.