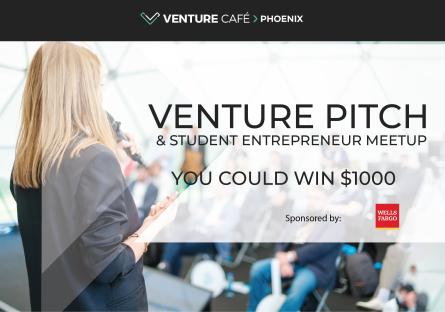 For new entrepreneurs, the chance to receive much-needed business capital to bring their entrepreneurial ambitions to life may seem too good to be true. But now, through the Center for Entrepreneurial Innovation (CEI) and a sponsorship from Wells Fargo, aspiring start-ups can compete for $1,000 of business funding every month.
Venture Pitch is a new monthly intercollegiate competition that supports the development of the entrepreneurial skills required to plan and launch a new business venture. The newly minted competition was developed to complement Venture Café Phoenix, a weekly gathering every Thursday that connects a community of innovators and entrepreneurs through freely accessible high-impact programming and events. 
"Venture Café Phoenix is part of our mission to support our local innovation ecosystem here in Phoenix," said Tom Schumann, CEI's Executive Director. "The Venture Pitch competition is a great way to help foster that entrepreneurial activity within our college students, providing them with the mentorship and support they need to develop their entrepreneurial skills."
Each week, community college and university students are invited to attend a "Student Entrepreneur Meetup," run by Maricopa Community College District business faculty members. The meetings are geared toward helping students prepare their pitch decks and make their pitches. There is a pitch competition each month that students can apply for and while one winner is selected each month, students who do not win funding are eligible to try again in the following months. 
The Venture Pitch competition will occur every month at the Thursday Gathering of Venture Café Phoenix. To view the meetup and competition schedule, as well as the competition criteria and application information, please visit venturecafephoenix.org/connect/programs/venture-pitch.