Friday, February 26, 2021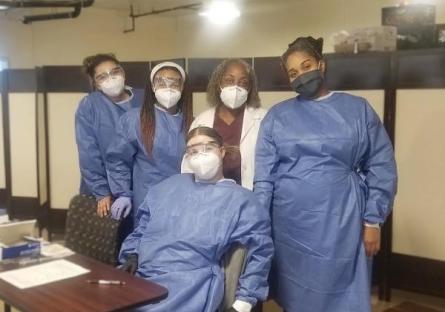 GateWay Community College Nursing students are currently volunteering to assist in administering the COVID-19 vaccine to eligible recipients throughout our community. 
S.T.A.R. (Stand Together and Recover) Central, a local non-profit community service organization and longtime partner of the college, enlisted GateWay Nursing students to assist in administering the new vaccine in Phoenix. In addition, LPN and RN students have been assisting the Phoenix VA with administering vaccines and in the hospital. 
Through S.T.A.R., students worked to administer more than 400 COVID-19 vaccines over the course of four days. At the Phoenix VA, they have been seeing 30 to 40 patients on a daily basis through its vaccination clinic since January.   
"GateWay has continuously answered the needs of our community since the beginning of the pandemic," said Dr. Margi Schultz, director of GateWay's Nursing Program. "The college sent ventilators from our Respiratory Care program to Dignity Health when they were needed and now our students are helping administer the COVID-19 vaccine. Our students are highly capable and continue to prove that."
These partnerships also provide a way for students to gain hands-on experiences outside of their lab and classroom settings. 
"In addition to the vaccination clinic for our LPN students, the RN students have had the opportunity to work in the hospital, providing basic care and interacting with patients as part of their clinical rotation," said Schultz. "Both the clinic and the hospital experiences have been an incredible opportunity for the students to help in our community and to gain valuable skills – the partnership has been beneficial for everyone and GateWay is very grateful for the opportunities afforded the students."
The Nursing students have a long history of serving the community, with several students previously participating in community wellness fairs, local health screenings, along with providing critical support during influenza and pneumonia immunization clinics. 
VA Nurse Manager Dianna Dybal said these future nurses are an important part of responding to the pandemic, and it's been helpful for the VA staff, too.
"We've definitely relied on each and every student in the vaccine clinic," she said. "And, the VA staff have enjoyed being a part of the learning experience with our next generation of nurses."
Some of the GateWay students will return in early March to help administer the second dose to clients of S.T.A.R. And they will continue to assist with administering vaccinations at the Phoenix VA through the semester.
For information about the Nursing program at GateWay Community College, visit: gatewaycc.edu/registered-nursing.