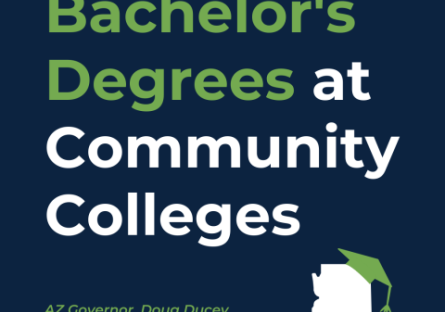 Today, Dr. Steven R. Gonzales, Interim Chancellor of the Maricopa County Community College District (MCCCD) on behalf of our Governing Board, faculty, and students, celebrates Arizona Governor Doug Ducey's signing of Senate Bill 1453. The bill allows community colleges to offer four-year baccalaureate degrees in an effort to further enhance students' access, opportunity, and affordability to higher education in Arizona, marking a historic moment for Arizona's families. 
"Our motivation to offer baccalaureate degrees is to better support the needs of the skilled workforce in the highest demand areas of our state in a way that is equitable, accessible, and affordable for students," said Dr. Gonzales. "This is a historic moment for higher education in Arizona, and in the coming days I will bring together the colleges and faculty to determine which programs we will advance immediately for consideration as a four-year baccalaureate program. I thank Governor Ducey for keeping Arizona's students top of mind and signing Senate Bill 1453."
Before this legislation, the Maricopa Community Colleges have only offered two-year degree programs and professional certifications. With this bill, Arizona will join 23 other states across the nation that allow community colleges to offer baccalaureate degrees under limited prescribed circumstances.
"This has been a priority our Governing Board has been working toward for 25 years, and we are thrilled to work with our faculty and many others in offering quality programs that better serve our students and develop a skilled workforce," said Marie Sullivan, President of the MCCCD Governing Board. "Community colleges serve a large number of first-generation college students, minority students, and students from lower socioeconomic backgrounds, and it is these students who will benefit most from baccalaureate degree programs at community colleges and who drove our commitment to this legislation." 
The bill was originally introduced by Representative Becky Nutt (R-14) and was added as a strike-all amendment to Senator Paul Boyer's (R-20) Senate Bill 1453. The bill overwhelmingly passed in the House (55-5) and Senate (24-6) in late April with strong bipartisan support. 
According to an Economic Impact Study conducted by Economic Modeling Specialist International (Emsi), students have the potential to earn more as they achieve higher levels of education compared to maintaining a high school diploma. Students who earn a bachelor's degree from a College can expect approximate wages of $61,200 per year within Maricopa County, approximately $16,600 more than someone with an Associate degree.* 
The Maricopa Community Colleges plans to develop baccalaureate degree programs in high-demand workforce areas, such as healthcare, information technology, police and fire sciences, and education. Students will now be able to benefit from earning a bachelor's degree without increasing their loan debt, as the Maricopa Community Colleges are the most affordable higher education institutions in the state of Arizona. 
The legislation will take effect Fall 2021 and requires detailed internal and external processes, including becoming nationally accredited. The Maricopa Community Colleges plan to begin enrolling students in their baccalaureate degree programs as early as the fall of 2023. 
MCCCD provides training and certifications for 95 percent of the most in-demand jobs in Arizona. With over 30 programs, 100 plus degrees and certificates, and hundreds of courses to choose from, available both on-campus and online, students can find their best path forward. The Maricopa Community Colleges applaud Governor Ducey and Arizona's legislature for their continued support. By Signing this monumental Bill, Governor Ducey has delivered on his commitment to improving higher education and expanding and aligning them with the jobs of the future for our state.