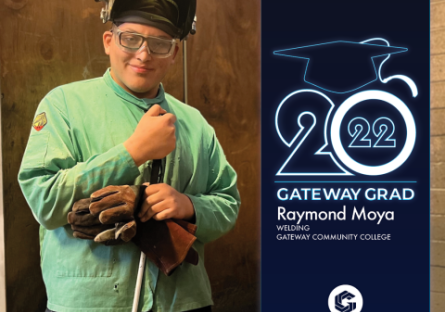 When Raymond Moya enrolled in the welding program at GateWay Community College, he knew he would have to work a little harder than his peers. Born with a rare condition known as panhypopituitarism, Moya is legally blind and suffers from combined vision and hearing loss, something you would never know when watching him weld and perfect his craft.
"It has always been important to me to be able to build something of my own," shared Moya. "I took welding in high school and knew that this is a path I wanted to explore."
With a decision made about his future, Moya set out to find a program that would help him achieve his goal of becoming a certified welder and could fit his needs. After hearing about GateWay's welding program, he reached out to see if they would be able to provide accommodations so he could get started. 
"The disability resources team at GateWay was easy to work with and helped me along the way," he said. "To anyone who is afraid to ask for help, don't be. The staff at GateWay care about your goals, and the resources are available to anyone who is willing to put in the effort of going to school."
But, it wasn't just making it through the program that was a challenge. Moya had to rely on public transportation many days to get to campus, something he had to schedule and account for as he started his day. Through his hardwork and dedication, he was able to complete the program and became a certified welder this past April, an achievement that others took note of. 
"Stories like Raymond's show that the educational programs offered by GateWay are accessible to everyone," said Dr. Amy Diaz, interim president of GateWay Community College. "We are so incredibly proud of his accomplishments. He truly is an example that if you are dedicated, and work hard, your future aspirations are limitless."
This May, Moya will be featured as one of the student speaker's at this year's commencement ceremony. An honor that he would have never thought possible at the beginning of his journey at GateWay. 
"I am grateful to have the opportunity to share my story at this year's commencement," he added. "I know that everyone has their own unique story, and I hope mine is one that inspires others to dedicate themselves to something they are passionate about." 
In the future, Moya hopes to become a welder for the City of Phoenix and is even looking at ways to expand his education with additional certifications. He also wants to be able to live independently with his own home and reliable transportation.
"I know it takes dedication to accomplish your goals," he added. "No one can do it for you, you have to go out and take advantage of the opportunities you have in front of you."
Dreams achieved is the theme of this year's 2022 Commencement Ceremony. And for Moya, it will be a theme he carries with him into his future. With an incredibly bright future ahead of him, there is no telling what he might accomplish next.
To learn more about this year's commencement ceremony, visit https://www.gatewaycc.edu/graduates.