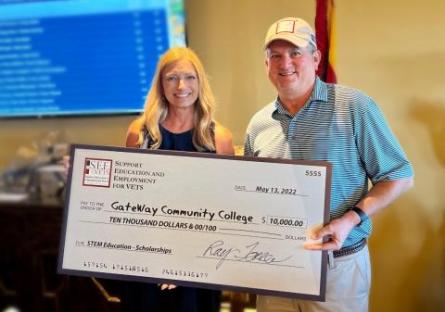 For Veterans about to enter the workforce after their service, finding the right career or educational path can be challenging. According to a Strategic Plan put together by the White House, Veterans often do not realize that their military-trained skills can easily translate into Science, Technology, Engineering, or Mathematics (STEM) careers.
So it's no wonder that when GateWay Community College's Veterans Services Center started offering a dedicated STEM scholarship to their Veteran students and eligible dependents, the program took off. The scholarship is funded through donations made by S.E.E.4Vets, an organization that partners with community colleges to help shape and implement programs that offer workforce opportunities to Veterans.
"Many of these Veterans have the skills and talents to be some of the best in their fields," said Gary Marabella, manager for Veterans Services at GateWay. "This kind of scholarship is a perfect opportunity to help our Veterans find jobs they are interested in that will also help them get careers with high pay that are in high demand."
The GateWay Veterans Service Center was established to assist military members, veterans, and dependent students in discovering the many educational opportunities available through GateWay. By connecting them to their VA Education Benefits, scholarships, and other support services, Veterans are able to achieve academic, professional, and personal success.
"We take supporting our Veterans seriously," said Dr. Amy Diaz, interim president at GateWay. "As a leader in workforce development, we feel that our college is uniquely positioned to help our Veterans quickly enter the workforce, all while providing them the support they need along the way."
With a renewed effort from the Federal Government to improve the representation of Veterans and their spouses in STEM careers, the Bureau of Labor Statistics expects there to be 821,300 new openings for STEM jobs over the next 10 years. 
This semester, GateWay will be awarding four $1,000 scholarships to eligible STEM students. Additionally, the college offers many other scholarship opportunities to its students and Veterans through the Maricopa Community Colleges Foundation.
"While these scholarships are a tremendous opportunity, we want Veterans to reach out to us if they need support," said Marabella. "GateWay's community truly feels like a family, and no matter what support our Veterans need, we're here to provide it."
While the deadline to apply for the scholarship has passed for the upcoming semester, additional services and scholarships may be available.
To learn more about Veterans Services at GateWay, please visit https://www.gatewaycc.edu/veterans-services.