Thursday, September 15, 2022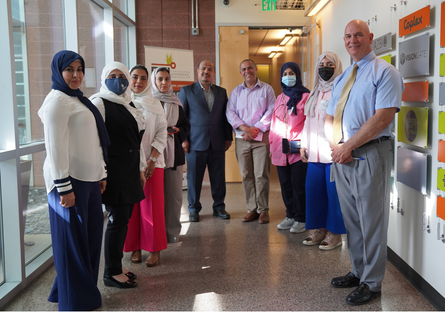 Last week, GateWay Community College welcomed an international delegation from Saudi Arabia. Visiting through the International Visitor Leadership Program (IVLP), the U.S. Department of State's premier professional exchange program, the delegation included various leaders within the Ministries of the Saudi government and social impact and nonprofit organizations. The trip and tours were organized and sponsored by Global Ties Arizona (GTAZ), a nonprofit organization that implements the IVLP for central and northern Arizona on behalf of the U.S. Department of State.
The group toured three of GateWay's state-of-the-art workforce development facilities, starting with the Center for Entrepreneurial Innovation (CEI) and CEI LabForce. In addition, they also spent time learning best practices for entrepreneurship and institutional advancement from Tom Schumann, Executive Director of CEI, and Patti DuBois, Assistant Executive Director of CEI. The group then traveled to Phoenix Forge, the largest makerspace in the Southwest United States, and spent time with Dr. Bruce Balfour, Executive Director of Phoenix Forge Makerspace, and explored how the facility contributes to economic empowerment and social progress. 
"On behalf of the Saudi delegation, I would like to thank the Center for Entrepreneurial Innovation and the Phoenix Forge Community Makerspace for their hospitality and for hosting us," said a delegation member. "The world has become a small village where we can easily exchange experience and knowledge through social media. We greatly appreciate the tours, and there are a few ideas that we will take back home and try to replicate in Saudi Arabia in a manner that fits with our culture and traditions."
Once finished with the tours, the delegation ended their day by attending Venture Café Phoenix, where they met innovators and entrepreneurs of the local community. 
"We are incredibly honored this delegation was able to visit our state-of-the-art facilities," said Dr. Amy Diaz, Interim President of GateWay Community College. "GateWay has always been a preeminent and innovative leader for workforce development in Arizona. And now, our leadership is being recognized on a global scale where we can help better our global community."
Founded in 2013, CEI has been an industry-leading entrepreneurial incubator over the past nine years, helping start-ups raise over $160M of capital, create over 765 jobs, and provide a significant economic impact to the state. And in its first two years, the Phoenix Forge already has over 600 active members and is expected to boast an economic impact of more than $22 million over the next ten years in tax revenue and personal income, according to the Greater Phoenix Economic Council. 
To learn more about CEI or CEI Labforce, please visit ceigateway.com. To learn more about Phoenix Forge, please visit phxforge.com. And to learn more about Global Ties Arizona, please visit globaltiesarizona.org.