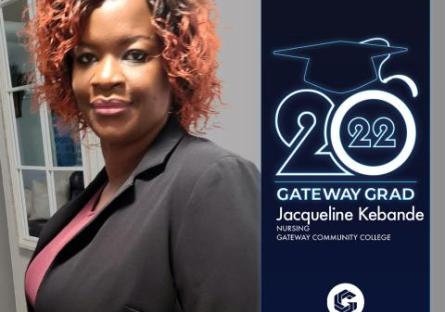 Jacqueline Mokeira Kebande always knew she wanted to help others. When she arrived in the United States in 2009 from Africa, she jumped at the opportunity to begin a career in healthcare. Through her passion and drive, Jackie became certified as a nursing assistant, a job that she immediately loved. 
But Jackie knew that she wanted more for herself and her family. Jackie returned to school and became a Licensed Practical Nurse. "I love being an LPN,'' said Jackie, "there is so much joy that comes with being able to help people." 
Jackie worked tirelessly as an LPN for seven years before she was once again emboldened to continue her education and return to college for a third time. "I found out about GateWay through my co-workers, they encouraged me to look into the program and see if it would be a good fit. I was a bit hesitant because of the distance but decided to inquire anyway."
After meeting with the academic advisor, P.K. Felix. Jackie knew GateWay was the right fit. She also realized that being a mother of three would make balancing school and work difficult, but that was a challenge she was willing to face. Although she had to give up working full-time, Jackie learned how to manage her time by creating a schedule and sticking to it. 
This Spring, Jackie's hard work and determination will once again pay off, as she graduates from the Maricopa Nursing program as a Registered Nurse. As a Class of 2022 featured graduate, one instructor shared, "Jackie is a very smart and humble student. She gets very good grades and has excelled in her role as an LPN in the past 7 years and she will be a very valuable and effective Registered Nurse." 
When asked what piece of advice she would give her fellow classmates she shared, "I always encourage students to take advantage of the resources on campus like the library and clothing boutique. Also, don't be afraid to ask for assistance when you need it."
After graduation, Jackie hopes to get back to work full-time, working as a registered nurse. The lifelong learner thinks she will take some time off of school as she pursues her new role in the healthcare field, but hopes to one day complete her Bachelor of Science in Nursing at Arizona State University. 
To learn more about this year's commencement ceremony, visit https://www.gatewaycc.edu/graduates.