Friday, September 15, 2023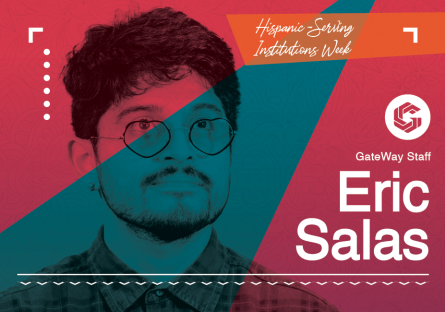 Diversity, Equity, and Inclusion initiatives vary significantly from one organization to another, and the commitment to these principles can differ greatly. Some organizations claim to support diversity but fail to take actions to uplift individuals from diverse backgrounds.
Eric Salas, a senior administration specialist at GateWay Community College, was once stuck in a corporate job that lacked diversity initiatives. It was a place where his passion for inclusivity went unnoticed. But Eric's journey towards making a difference was fueled by a desire to honor his hardworking parents and create a more diverse and equitable world.
Born into a Hispanic family, Eric's parents had always been supportive. They worked tirelessly, making sacrifices to ensure a better life for him. Despite their busy schedules, they made it a point to attend his extracurricular activities. demonstrating their dedication to his dreams.
"I am a big basketball person, and when it came to the games I played in high school, they would carve out time to support me and my dreams," Eric said.
Motivated by his parents' support and inspired by their resilience, Eric sought to make them proud. His aspiration was to make a meaningful contribution to a more inclusive society, a contrast to his previous corporate experiences. 
His opportunity came when he joined GateWay Community College in March of this year. From the very beginning Eric could see the difference. "On my second day, there was a DEI 101 workshop focused on LGBTQ issues," said Eric. "This experience showed me the active representation and diversity within our student population."
Eric's office, located within the Center for Diversity, Equity, and Inclusion, is the home to many DEI program that he is passionate about. Here, he plays a crucial role in organizing events like the DEI 101 workshops he witnessed in his first week. As an Administrative Specialist, Eric works on creating a welcoming and comforting environment for students, often through small yet meaningful gestures.
"Providing specific foods that students are familiar with makes them feel at home and relaxed," said Eric. "It's an easy way to ensure that they don't feel obligated to eat something unfamiliar just because they're hungry. It allows them to enjoy familiar foods and hopefully shows them that we see them and appreciate their culturally diverse backgrounds."
While some might see Hispanic Serving Institution status as a metric, the employees at GateWay are actively working to empower and uplift Hispanic and Latine students. Eric has found purpose in his work, he shares, "At GateWay, I feel like I'm making a difference in the lives of our students. Whether it's sending one email, making a single purchase, or organizing one meeting, the impact of my work is meaningful."
One of Eric's long-term goals is to complete his Associate's degree at GateWay and potentially transfer to a university. Regardless of where life takes him, he plans on returning to mentor future students, guiding them on their journeys.
Reflecting on his own personal journey, Eric is motivated by his parents' pursuit of their dreams. "I would tell others to take a moment and ask their parents about their experiences," said Eric. "These conversations can serve as an extra source of motivation to persist. It helps us identify more with our own cultures and learning from our parents' journeys provides wisdom and a deeper connection to our heritage.