Monday, September 11, 2023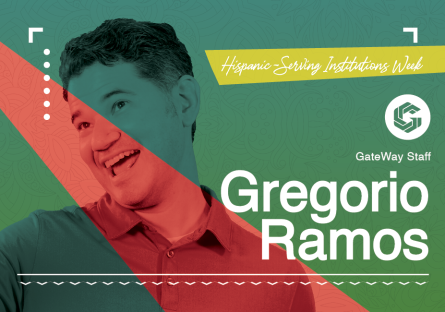 Gregorio Ramos is no stranger to the Maricopa County Community College system. The current Recruitment and Outreach Student Services Analyst, held various positions across the District before finding his way to GateWay. He now works closely with potential students, helping them pursue their dreams, while making a positive impact on their educational journey. 
Gregorio began his career at Scottsdale Community College, where he ensured campus safety by working as a security guard. It was during this time that Gregorio discovered the value and his love for education. While working, he earned an Associate's of Arts in Film Production, followed by a Bachelor's in Human Communication from Arizona State University.
Throughout this journey, Gregorio's love for helping students continued to grow. Following his time at Mesa Community College and the University of Arizona, he landed in the Recruitment and Outreach department at GateWay. His current position allows for an increased opportunity to connect with prospective students and to foster his passion for the human connection with those interested in furthering their education.
When asked why he thought it was important to share his story during Hispanic-Serving Institutions Week he said, "I saw this as a chance to share my personal story," Gregorio said. "Community college elevated me to a place where I now have more options and opportunities."
The story that Gregorio has is one of multicultural experience. He was born in Phoenix and moved to the Mexican state of Jalisco when he was five. Gregorio lived in Mexico until his senior year of high school, where he came back to the Valley and earned his diploma.
His exposure to diverse cultures in both the United States and Mexico played a significant role in shaping who he is today. Gregorio has been able to connect with the GateWay community because of his diverse upbringing, allowing him to help others that may be unsure of their educational future.
"I realize how lucky I am to have dual citizenship and have the immersion in different cultures," Gregorio said. "I consider myself not only bilingual but also bicultural."
Recruiting at a Hispanic Serving Institution means a lot to the Phoenix-born recruiter, as his immediate family worked hard both in the United States and Mexico. His grandfather immigrated to the U.S., and his mother worked on a farm at a young age upon arrival to the country.
Gregorio feels "blessed" that he can be proud of who he is, beyond just his career. It can be difficult for those who come from different countries and cultures to be accepted everywhere, but events such as Hispanic Heritage Month allow for Hispanic/Latinx people like Gregorio to celebrate and reflect on their ancestry.
"I don't have to be afraid to be proud of who I am," Gregorio said. "I realize that is because of the struggles of those that came before us."
On top of connecting with learners on and off of GateWay's campuses, Gregorio will be participating as a mentor in the GANAS Latinx Leadership Institute this upcoming school year. GANAS is an excellent program for latinx students to connect, learn, and grow during their time at GateWay, while making lifelong connections and relationships.
Gregorio states how important it is to have leaders from Latin American and Hispanic backgrounds in positions of power. He is already a leader at GateWay, doing his best to make the college a top Hispanic Serving Institution.
"If you can make a connection with one person, that might make the difference," Gregorio said. "It helps make anyone feel welcome here at GateWay."