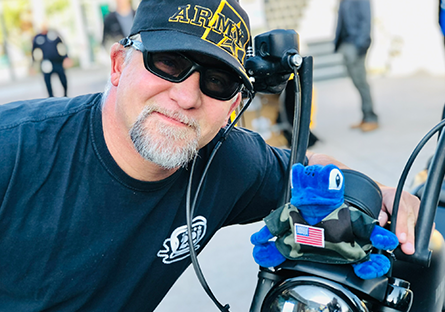 For the last 23 years, Dr. Joseph Swaba has served GateWay Community College (GWCC) in a variety of ways. Those across the college know his impact as a faculty member, and now Dr. Swaba is getting the national recognition he deserves.
The American Association of Community Colleges (AACC) awards the Dale P. Parnell Faculty Distinction Award every year, recognizing the top faculty members at community colleges across the United States. The AACC selects faculty that are dedicated to the students as well as the college, and Dr. Swaba more than fits the bill.
"Dr. Swaba has served GateWay so much over the last 23 years, and is so deserving of this honor," said GateWay Community College President Dr. Amy Diaz. "He connects with students from all walks of life and is dedicated to providing quality education and support to every student he is involved with."
For the fifth consecutive year, a GateWay faculty member has earned the Dale P. Parnell Distinction. The faculty chair members saw how much Dr. Swaba has put into his passion of teaching, and put him up for the award.
"To know that my peers saw qualities in me that were worth me being nominated was so important," Dr. Swaba said. "To be recognized among the amazing faculty at GateWay, including those who have earned the award before, meant the world to me."
Dr. Swaba has served in a variety of positions in the Maricopa County Community College District, dating all the way back to his time at Mesa Community College as a custodian. Dr. Swaba worked his way through his education, and at the same time made his way through the ranks of the school district.
The roles that Dr. Swaba has served in since 1987 include program manager, associate director, and interim associate dean. Dr. Swaba has a wide range of experience in many different roles that would have allowed him to go anywhere and do anything he wanted, but he decided to fulfill his longtime, ultimate goal of becoming a professor.
Dr. Swaba is not only a veteran, but also a first-generation student. He is committed to helping students from all walks of life, providing guidance and advice that he did not have when trying to navigate through the entire college experience.
"Many of our students do not come from places where college is seen as the next step after high school," Dr. Swaba said. "In my family, they did not know how to help me get to college. I did not know education at the time, but now I do and I want to share that with the students."
"Students from underserved communities may not always have the resources to navigate higher education after high school. As a first-generation college student, I struggled with this as well, and joined the Army immediately following 12th grade," said Dr. Swaba "Being able to share my experience with GateWay students, helps remove barriers and sets them up for future success."
Dr. Swaba was part of the team that established the Maricopa Veterans Educational Taskforce (MVET), served as its inaugural president, and was the keynote speaker at its first convocation ceremony. He also helped develop the BRIDGE Academy, served as Faculty Senate President, and is currently serving on multiple committees at GWCC.
The impact Dr. Swaba is making on students has extended to high schoolers before they even graduate. He has endowed a scholarship that, each semester, allows for a GateWay Early College High School student to get one step closer to a college degree, and sometimes even helping them earn that college degree prior to graduation.
Dr. Swaba holds over a dozen degrees and certificates, and has received various accolades throughout his career. The Dale P. Parnell Faculty Distinction is yet another honor that Dr. Swaba more than deserves, placing him among the great list of GateWay faculty who have been honored by the AACC.
To learn more about the programs at GateWay Community College, visit gatewaycc.edu/programs.