Wednesday, November 15, 2023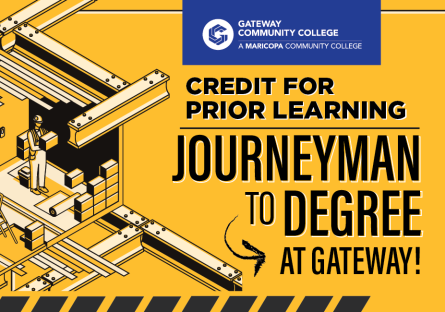 GateWay Community College (GWCC) is proud to announce the launch of its "Credit for Prior Learning" program, designed to provide a unique opportunity for Journeymen in ten construction trades to leverage their industry experience. This initiative provides Journeymen with the opportunity to earn valuable college credits that count towards the completion of an Associate's Degree within their respective fields. With a focus on supporting the career advancement of professionals in the construction industry, GWCC is bridging the gap between practical experience and formal education.
"Aligned with the launch of Governor Hobbs' Build It Arizona, our 'Credit for Prior Learning' program has been designed to cater to the needs of a rapidly evolving job market," said Dr. Amy Diaz, President of GateWay Community College. "As demand for skilled trades workers increases, our program addresses a critical need for upskilling those workers and providing a path for career progression."
The data indicates that in 2024, the construction industry will face a critical challenge, with a need to recruit over 342,000 new workers, in addition to regular hiring just to meet the ever-growing industry demands. GWCC's "Credit for Prior Learning" program is positioned to play a vital role in bridging the gap between this industry demand and the available workforce. By empowering Journeymen with the opportunity to earn college credit for their extensive experience, GWCC is contributing to the solution for this pressing workforce issue.
The following construction trades are eligible for the Credit for Prior Learning program:
Electrical

Carpentry

Millwright

Heat & Frost Insulators

Ironworking

Paint

Drywall

Pipefitting

Plumbing

Sheet Metal
In celebration of National Apprenticeship Week, GWCC will be hosting information sessions to address questions and assist interested Journeymen, as well as apprentices who are on the path to becoming Journeymen. The sessions will take place on Tuesday, November 14, and Wednesday, November 15, from 3:00 to 6:00 p.m. at the Central City Campus, in Room 202 of the A Building.
For more information about GWCC's "Credit for Prior Learning" program for Journeymen, please visit https://www.gatewaycc.edu/journeymen or attend one of our information sessions during National Apprenticeship Week.