Monday, November 13, 2023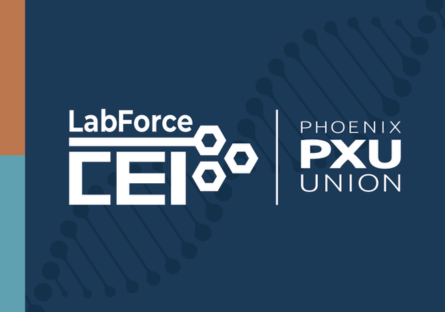 In an exciting collaboration, Bioscience High School, a member of the robust Phoenix Union High School District (PXU), has joined forces with the Center for Entrepreneurial Innovation's LabForce initiative to introduce a cutting-edge Laboratory Technician Development Program (LTDP) at Wexford Science and Technology's Connect Labs in 850 PBC. The program prepares students for success in the careers of tomorrow. This partnership marks a significant step in fostering the next generation of lab technicians and STEM professionals.
The Center for Entrepreneurial Innovation (CEI) was created by GateWay Community College and the Maricopa County Community College District to provide incubation space for bioscience entrepreneurs in Phoenix. This new partnership further underscores CEI's commitment to fostering innovation and educational excellence in the bioscience sector. Together, they are offering practical, hands-on experience to the next generation of lab technicians and contributing to the growth and advancement of bioscience industries in the region.
The Laboratory Technician Development Program (LTDP) is designed to provide Bioscience High School students with a comprehensive and hands-on experience in laboratory practices, ensuring they are well-prepared to excel in lab environments. Through this program, students will receive rigorous training and the opportunity to sit for the nationally recognized BACE exam (Biotechnician Assistant Credentialing Exam), setting them on a path toward recognized excellence in the field. By having this certification, students are not only ready but qualified to work in a lab after graduation.
One of the standout features of this partnership is after students learn laboratory skills and pass the BACE exam, they will be interning with CEI LabForce partners in the community. This invaluable opportunity allows students to put their classroom learning into practice, gaining real-world experience in lab environments and helping them become career ready. Students will also seek opportunities in which they have a vested interest from various industries so that they can either focus on their laboratory work passion or combine it with a different industry to create a field of tomorrow. 
Discussing the partnership, PXU Superintendent Thea Andrade said, "Bioscience High School is a top-fifteen rated high school in Arizona by US News and World Report. Real-world opportunities are life-changing for our students. The collaboration between Phoenix Union, GateWay Community College, and the Maricopa County Community College District provides our students with experiences that will propel them to a successful future in the biomedical field. We thank GateWay for giving our students the best chance to succeed in college, career, and life."
Bioscience High School Principal Neda Boyce expressed enthusiasm for the collaboration, stating, "The collaboration with the Center for Entrepreneurial Innovation has provided our bioscience students a profound opportunity to engage in meaningful scientific explorations within a real laboratory setting. Students who go through the lab tech program and attain BACE certification are positioned for job opportunities and are poised to excel as prospective candidates for positions within university research labs during their college years. This is a unique and special opportunity for our students, and we look forward to adding more students to the program each year."
CEI LabForce Executive Director Tom Schumann echoed this sentiment, emphasizing the importance of nurturing young talent in bioscience fields. "We find these hands-on experiences develop self-confidence in students as they apply the skills they are learning in a real-world setting. The more exposure they have to the biosciences the more likely they will embrace it as a future career. "
This partnership enhances students educational experience and contributes to the growth and development of the STEM workforce. Combining education, industry expertise, and real-world opportunities will ultimately shape the future of lab tech and STEM careers.