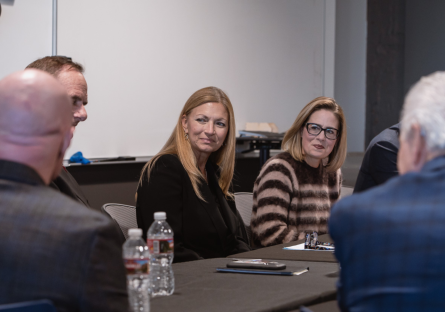 Senator Kyrsten Sinema listens next to the Interim President of GateWay, Dr. Amy Diaz.
Senator Kyrsten Sinema hosted a roundtable discussion at GateWay Community College's Phoenix Forge on Friday, Jan. 20, to meet with the leaders from around the valley to listen to their key priorities for Arizona entering the 118th U.S. Congress.
As the largest makerspace in the southwestern United States, Phoenix Forge served as the perfect backdrop for the occasion. Sen. Sinema highlighted important work being done on topics including water security, infrastructure spending, and the critical role community colleges play in meeting the workforce development needs of Arizona's economy.
"Community colleges are effective. They are trusted and accessible," said Sinema. "The work that Maricopa Community Colleges is doing to create partnerships and apprenticeships to help train and fulfill our workforce needs is critical to our state." 
GateWay, one of ten Colleges within the Maricopa County Community College District (MCCCD), is known for being a leader in workforce training. GateWay is the only college in Arizona offering specialized degrees and certificates in water and wastewater treatment as well as water resources technologies. In addition, the college opened a dedicated training facility in partnership with the City of Surprise in 2016 for water resources technologies, something Surprise Mayor Skip Hall highlighted during his remarks.
"One of the benefits of having such a large community college system is our ability to offer affordable, short-term training in a responsive way that meets the needs of our industry partners," said Dr. Amy Diaz, interim president of the college. "Ultimately, our college's mission has always been helping students take the most direct and affordable path to high-paying jobs."
Sen. Sinema discussed the new funding options through several recently passed bills, such as the CHIPS and Science Act, which provides critical funding to the microchip manufacturing industry. She also highlighted the Inflation Reduction Act, which includes $4 billion in funding to help mitigate climate-driven drought in the Colorado River basin states.