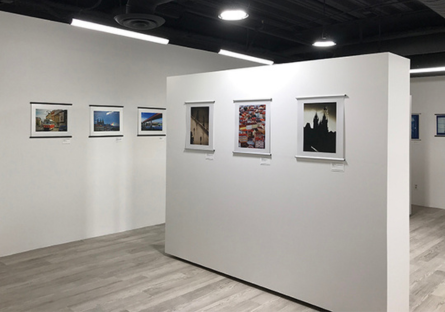 The GateWay Art Gallery – within the Center for Diversity, Equity and Inclusion (DEI), is now accepting submissions from artists in the Phoenix community and beyond for a Spring 2024 exhibition.
"Giving an opportunity to creatives to share their unique perspectives through art is an important component of our college," GateWay President Dr. Amy Diaz said. "These exhibitions shine a light on individual experiences while creating a space to celebrate our diverse community."
A transformative space embracing the dynamic and multidisciplinary nature of today's visual culture, the GateWay Art Gallery proudly highlights student, faculty and guest artists' works, while offering art lovers a vibrant space for interaction, reflection, experimentation and discussion. The gallery and program are sponsored by GateWay's ÉXITO Title V Grant Program, which is designed to eliminate barriers and address gaps throughout the student lifecycle.
Artist submissions will be evaluated based on a combination of factors, including the Title V Grant Program goals, artistic rigor, alignment to the gallery's mission and vision of supporting diverse artistic expressions while combating historical exclusionary practices in gallery spaces, and overall feasibility of the project, such as anticipated costs, space limitations, etc.
The selected works will be showcased in the 700 square foot gallery space, located at the Washington Campus, during the Spring 2024 semester. Artists will also have the opportunity to host a Visiting Artist Lecture and a Developmental Workshop for the benefit of students and community members.
If selected, artists will receive compensation and support from the college in the execution of the proposal, including:
Up to $9,000 in contract funds to support the creation of the exhibition

Earning 80% of revenue from art and merchandise sold onsite

Collaborative planning and hosting of an exhibition opening event at GateWay Community College

Program and curriculum consultation with DEI Center staff and art program faculty

Support from marketing team to develop, produce and disseminate promotional materials through official GateWay channels (i.e. website, social media, 

physical publications)
All applications must be submitted by Friday, September 1, 2023. Any questions regarding the application or the selection process can be sent to dei@gatewaycc.edu