Wednesday, September 20, 2023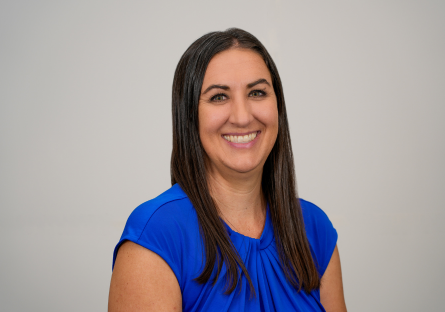 GateWay Community College is pleased to announce that Student Services Manager Leah Smith-Thompson will join the Hispanic Association of Colleges and Universities (HACU) Enlace Mid-level Leadership Program this fall.
Smith-Thompson is one of only 56 other applicants selected. The six-month long program is structured like La Academia de Liderazgo/Leadership Academy, and candidates had to meet various professional, educational, and supervisory criteria to be considered. The program is intended to increase the number, variety, and quality of Latino/a talent in leadership positions at Hispanic-serving institutions (HSIs) and in higher education overall.
Participants will be part of a unique forum for the sharing of information and ideas around academic and student affairs management, regional institutional accreditation, diversity, equity, inclusion, higher education advocacy issues, and more.
"Leah's acceptance to the HACU program is well-deserved, and we are delighted to have her represent our college during these sessions," said GateWay Community College President Dr. Amy Diaz. "Throughout her tenure, she's not only shown a dedication to our students' success but a keen determination to innovate and deliver progressive programs. We look forward to her sharing some of GateWay's best practices with other institutions while discerning emerging trends."
Smith-Thompson has 15 years of experience in higher education. She has served in a variety of roles within Student Affairs in the areas of Testing, Admissions and Records and Early Outreach Programs. Currently, she serves as a Student Services Manager at GateWay where she provides direct supervision, coordination, and strategic planning for the early outreach programs.
"I'm quite thrilled to have been selected for the leadership program," said Smith-Thompson. "Having the opportunity to collaborate with other leaders will not only be personally fulfilling but allow me the chance to learn how to further support our Hispanic students and strengthen our Ganas culture."
HACU is the only national association representing existing and rising HSIs, with more than 500 colleges and universities in the United States, Latin America, and Spain.
Upon completion of the program, the cohort will travel to Washington D.C. to complete the final face-to-face sessions and attend the National Capitol Forum. A graduation ceremony will take place during this time as well.
GateWay was designated an HSI by the U.S. Department of Education in 2009 as over 49.5% of the student population self-identifies as Hispanic. Since then, GateWay has developed key initiatives to reinforce this designation.
The Equitable Xperience Infused Through Out (ÉXITO) Title V grant was designed to address gaps throughout the student lifecycle that can impede Hispanic and other low-income students access to resources and support.
Furthermore, the GateWay Academic Nexus Advancing Students (GANAS) program aims to create a network of Latinx and/or Hispanic-identifying student leaders who are committed to building experiences that strengthen social and cultural inclusion at GateWay and beyond. Students have the opportunity to connect with mentors, colleagues, and other professionals who share similar experiences.
To learn more about how GateWay Community College fosters inclusion, learning, and well-being for all, click here.