Wednesday, April 19, 2023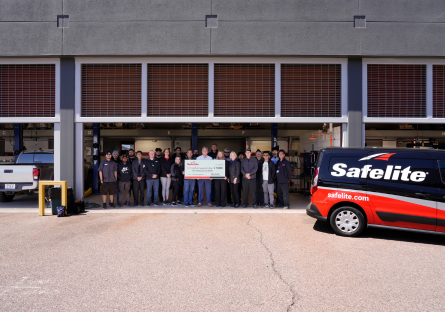 This April, Safelite AutoGlass provided 28 students enrolled in the automotive services program at GateWay Community College with a $250 scholarship. The scholarship award is the first of its kind at GateWay, easing the cost burden for students and allowing GateWay to stay committed to affordable and accessible education. 
"Our automotive services students work hard every day to continue their education, whether in the classroom or out in the field," GateWay president Dr. Amy Diaz said. "This scholarship ensures our students can complete their programs and provide them with an opportunity to become top professionals in the automotive industry."
Safelite AutoGlass is the largest auto glass specialist company in the United States. The idea of the award started at GateWay's annual Runway to Success fundraiser in October, which Safelite associate George Spelius attended. Spelius was so impressed with the automotive services students at the event that he submitted a $5,000 request for scholarship funding from the Safelite Foundation. And when hearing about the opportunity, Safelite delivered.
"The dedication of the automotive students at GateWay is amazing," Spelius said. "After meeting students at the Runway to Success event, I reached out to our Safelite Foundation, as we are always looking for ways to give back to the community. This scholarship is a way to provide more opportunities to those in the program to advance their studies and relieve some of the financial burdens that can arise."
Tools are a big part of the program's cost, and many students will put their scholarship awards toward top-of-the-line instruments. The new gear will help students while in the program and give them another head start when entering the industry.
"Tools are very expensive, and when you are in this industry, a lot of the time you have to provide your own tools," said Adrian Serrano, an automotive services student at GateWay. "The scholarship is super helpful because at this entry-level age, not everyone has the access to that type of money."
With a new partnership formed, both Safelite and GateWay are already looking ahead to other opportunities that may arise in the future.
"This donation is a perfect example of how our college partners with industry leaders like Safelite," said Diaz. "Our graduates are historically some of the most well-qualified upon completing their programs. The scholarship helps them finish and exposes them to another possible career path to gain meaningful employment."
For information on the program, visit gatewaycc.edu/automotive or call (602) 286-8000 for enrollment services.